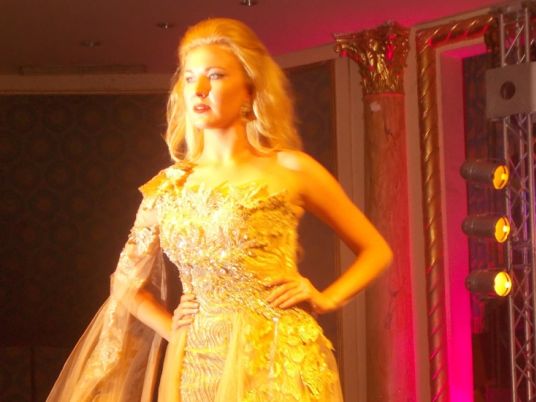 First impressions count.
That, no doubt, is why few first dates take place in lederhosen.
For the traditional Germans among us, no offense intended.
But there's something about a sharply cut suit, or a well-matched sweater-pant combo that hits the style spots small leather shorts and braces can't.
Of course in a Turkish steam bath even a pair of board shorts would be considered over-dressed. But that's an extreme we needn't worry about here.
So which country has the best-dressed people?
Is it even possible or fair to evaluate an entire country on the sartorial whims of its fashionable elite?
Probably not.
But that's not going to stop us. And it shouldn't stop you either.
Which country do you think has the best-dressed people? Share your thoughts in the comments section.
8. United States
If Marc Jacobs wears it, we want it.
The global reach of its style innovations has matched the geopolitical importance of the United States.
From blue jeans and western wear such as checked shirts and cowboy hats to the preppy school and hip hop street threads, casual American looks have permeated cultures from Columbia to Cambodia.
There have been missteps along the way — leather shoestrings and Crocs to name two — but at its best American fashion embodies a classic aesthetic that's hard to resist.
Big labels such as Ralph Lauren, Tommy Hilfiger and Calvin Klein are among the most copied brands on the planet. Their ubiquity doesn't mean that the Americans don't have some cutting-edge aces up their sleeves.
Marc Jacobs is rightfully regarded as a modern master while high-end labels such as Proenza Schouler, Zac Posen, Tuleh, Peter Som and Derek Lam are giving the European fashion powerhouses a run for their money.
Classic example
Steve McQueen. It takes guts to wear khakis and cable-knit sweaters. It takes Steve McQueen to pull it off.
Where to buy
For an understated yet hip New York look a good choice is Steven Alan Annex (103 Franklin St. in New York ; +1 212 343 0692), where the eponymous curator/designer fills his stores with his own creations and judiciously selected items from the city's best new brands.
7. Brazil
Proving Brazil can dress just as well as it undresses.
The spiritual home of the body beautiful, Brazilians have traditionally been seen as one of the best-undressed nationalities.
Yet while the classic, barely-there swimsuit/tight trunks and Havianas combo still reigns supreme on the beaches of Rio de Janeiro, a more subtle fashion aesthetic has emerged in South America's largest country.
The catalyst for this change was the advent of the São Paolo Fashion Week at the turn of the millennium.
Now, with the newer Fashion Rio taking place in the same fortnight, Brazil is upping the ante when it comes to hosting extended ready-to-wear events.
The approach is paying off with brands such as Pedro Lourenço, Osklen and Alexandre Herchcovitch making a mark internationally with their exuberant designs.
Classic example
Carmen Miranda. Her fruit-laden hats and turbans brought Rio's joyous Carnival culture to a wider audience.
Essential items
Bikini from Osklen (women); classic V-neck T-shirt from Reserva (men)
Where to buy
Alexandre Herchcovitch is arguably Brazil's foremost designer and the prêt-à-porter and tailor-made clothes at his store (Rua Melo Alves 561) are a highlight of shopping in São Paolo.
6. Australia
It takes hours of work to look this effortless.
Spinal Tap guitarist Nigel Tufnel may have once described a band mate's girlfriend as "dressing like an Australian's nightmare," but the Aussie style sense is no longer derided.
Well, not as much.
The Australian look, which is at once casual and individualistic, is now emulated everywhere. The friendly climate, surf culture and strong outdoor aesthetic have all influenced Australian design.
Yet while a sense of informality rules, the refined lines at labels such as Minkpink and Camilla and Marc are a world away from the swimsuited and be-thonged image of popular renown.
Brands such as Camilla and Marc go for a "tailored casual" aesthetic a world away from elasticized waistbands of board shorts.
Other names to drop include Josh Good and Scanlan & Theodore.
Classic example
Isabel Lucas. The Transformers actress rocks a vintage, hippie-inspired look perfectly suited to the perpetual Australian summer. Her favored brands include homegrown jewelry label Spell Designs.
Essential items
Dress by Alex Perry (women); paisley shirt by Arthur Galan (men).
Where to buy
At 100 Squared at Westfield Sydney, emerging designers have been plucked from various market stalls and housed under one roof in a 100-meter-square cube.
In Melbourne, Chapel Street in South Yarra still impresses with its blend of on trend street fashion retailers such as Fat and more upscale options like Gorman.
5. United Kingdom
Don't laugh — the dipped-in-a-bowl-of-coconut-shavings look is coming.
There's a reason so many turn to the Brits for style pointers.
From the approximation of Edwardian fashions by the Teddy Boys in the 1950s through to the smart-casual looks favored by bands from The Who to the Arctic Monkeys, British youth movements have mined a rich sartorial seam.
While it's possible to put other fashion hubs into defined boxes — France (femininity), Sweden (minimalism) — British fashion largely defies categorization.
It can mean anything from a timeless James Bond look courtesy of famed tailor Gieves & Hawkes, classic British brands such as Burberry, Mulberry, Fred Perry and Lyle & Scott, or the steady stream of innovative design talent that emerges from famed fashion schools such as Central Saint Martins in London.
Classic example
Terence Stamp. British fashion was never more influential than at the height of the Swinging Sixties and nobody embodied the sharply dressed ethos more than he.
Essential items
Vivienne Westwood Anglomania Accident Slim Pencil Skirt (women; ); Barbour trench coat (men).
Where to shop
It's not exactly a British concept (it was the brainchild of Rei Kawakubo of Commes des Garçons), but Dover Street Market (17-18 Dover St.; +44 207 518 9689) has a distinctly London energy.
Its six floors feature lines by a host of top labels including home favorites Alexander McQueen and Phoebe English.
4. Japan
Unique glow. Hmm, that gives us an idea …
Few nationalities take dressing up to such gleeful extremes as the Japanese.
Previous generations may have wallowed in conformity, but youth fashion in big cities such as Tokyo is the antithesis of the graceful lady wrapped in a kimono or the business-suited salaryman.
Often provocative, Japanese street fashion draws on a raft of influences — both international and traditional — to create looks that have transcended the boundaries of districts like Harajuku to take catwalks and high streets all over the world by storm.
Styles include "lolita," an updated take on Victorian-era clothing and "oshare kei," a punkish style characterized by bright colors and different patterns.
Elements of these have been exported as a result of the success of homegrown brands such as A Bathing Ape, Uniqlo and, most notably, Commes des Garçons.
Classic example
Rei Kawakubo. The creative force behind the Commes des Garçons label, Kawakubo — with her black uniform and severe bob — is an avant garde icon.
Essential items
Flannel long sleeve tunic from Uniqlo (women); Skull Face T-Shirt from A Bathing Ape (men).
Where to buy
The flagship outlet of Japan's most famous label, Comme des Garçons (5-2-1 Minami-Aoyama; +81 3 3406 3951) is the first stop in Tokyo.
For more refined Japanese style, it's Xanadu (+81 3 6459 2826), a boutique that stocks some of Tokyo's coolest designers.
3. France
If you dressed like this, you'd have a perma-smug grin, too.
The French royal court became the arbiter of style for the rest of Europe in the 17th century.
It arguably still is, though today's fashion aristocracy aren't the powdered courtiers of Louis XIV, but the bright young things at houses such as Vuitton, Dior and Givenchy.
It's not just the rest of the continent that takes many of its leads from Paris — it's the entire world.
Foreign stars such as Marc Jacobs (United States), Kenzo Takada (Japan) and Alexander McQueen (United Kingdom) all saw a move to France as the logical way to further their careers.
The birthplace of haute couture, French fashion can be too precious for some tastes.
New designers such as Yves Andrieux and Vincent Jalbert, however, who use recycled army fabrics and antique embroideries in their jackets and bags, are re-injecting some edge.
Classic example
Eva Green. The former Bond girl favors 1930s- and 1940s-inspired silhouettes like high waists and structured shoulders that evoke the classic designs of Coco Chanel.
Essential items
Cotton tweed culotte skirt from Chanel (women); Speedster leather jacket from Surface to Air (men).
Where to shop
The streets around Avenue Montaigne and Saint-Germain-des-Pres are peppered with designer labels, but the Rue Charlot area in the Third Arrondissement is the current hot spot in Paris.
Picks include N60 for a mix of Parisian and International brands and Yves Andrieux & Vincent Jalbert for vintage-inspired clothes and accessories.
2. Sweden
Lykke Li lives the Swedish fashion code: less is more.
Un-demonstrative yet completely assured, the Swedish style sense has become the latest in the long line of successful exports from the Scandinavian nation.
Whereas the country's '70s breakout phenomenon, pop group ABBA, complemented their melodic nous with outlandish satin loon pants and facial hair, the appeal of Swedish fashion rests in its stylistically clean, minimalist notes.
This utilitarian approach to fashion has spread across the globe.
Sweden's most famous brand, Hennes & Mauritz (H&M), now has more than 2,300 stores in 41 countries and its tie-ins with designers such as Stella McCartney and Roberto Cavalli have set the standard for collaborations between high-street and high-fashion brands.
Smaller labels such as Cheap Monday and Acne meanwhile are also rapidly attaining global reach and influence.
Classic example
Lykke Li. The breakthrough pop star epitomizes the Swedish "less is more" fashion ethos.
Essential items
Long knitted polo neck jumper from H&M (women); Royal Blue Johnny Sweater from Cheap Monday (men)
Where to buy
Stockholm's hippest store is the Acne flagship (Norrmalmstorg 2; +46 8611 6411). Bargains are found at the Acne Archive in Stockholm (Torsgatan 53; +46 830 2723), where past seasons and press samples go for up to 50% off.
More on CNN: Insider guide — best of Stockholm
1. Italy
Gianni Agnelli didn't need color to shine.
Italy's modern association with style began in the 1950s.
Gucci became the jet set's label of choice with icons such as Grace Kelly and Jackie Kennedy Onassis rarely seen without one of its handbags.
Meanwhile, on the beaches of the English south coast, sharply dressed Mods in tailored Italian suits showed how to cut a dash during a scrap in their clashes with leather-clad Rockers.
Europe's kinky boot continues to fly the flag.
Prada, Miu Miu and Armani are legendary, while fashion conscious shoppers across the world strive to inject trademark Italian "sprezzatura" (studied nonchalance) into their look.
With two cities among fashion's big five — Milan, Rome — the world still looks to Italy for pointers, which is good news for emerging designers such as Carlo Contrada and Gabriele Colangelo.
Classic example
Gianni Agnelli. One of Italy's greatest industrialists, the impeccably dressed Fiat magnate was also a worthy standard bearer for his nation's fashion sensibility.
Essential items
Miu Miu bag (women); tailored blazer from Zanetti with pocket square (men).
Where to buy
Italy's fashion capital, Milan remains the place to shop, with places like Gianni Campagna (via Palestro 24; +39 02 77 88 11), where Karl Lagerfeld and Valentino go for their handmade suits — prices start at €3,745 ($4,884) — or the historical Galleria Vittorio Emanuele II, home to Prada's flagship store.