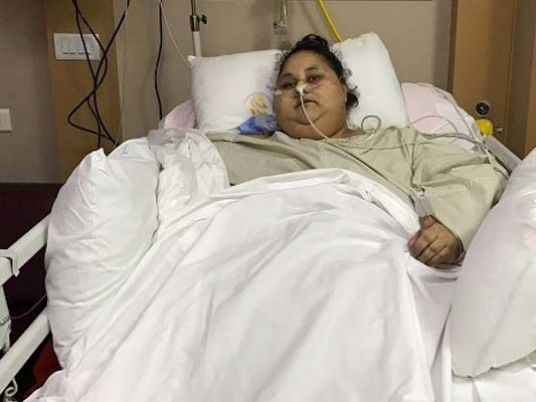 After loosing over 100 kilos through medical intervention, Eman Ahmed, believed to be the world's heaviest woman, has successfully undergone weight-loss surgery as she was flown to Mumbai from Egypt for treatment last month.
A team of doctors at Saifee hospital in India performed a laparoscopic sleeve gastrectomy on Eman on March 7, shrinking the size of her stomach by 75 percent, the hospital said in a statement on Thursday.
''Eman successfully underwent a Laparoscopic Sleeve Gastrectomy on March 7, 2017 at Saifee Hospital. She had an uneventful surgery and anesthesia course," the statement said.
According to the hospital, she is now on oral fluids and accepting them well.
"The future course of action for the medical team working on her will be to correct all her associated medical problems, to get her fit enough to fly back to Egypt as soon as possible," the hospital said, adding that the patient is now in post-op care and that more updates will be shared in due course.
Eman is expected to lose another 200 kilograms in the next six months as a result of surgery
Eman has been in hospital since early February when she was moved out of her home for the first time in 25 years by removing the wall from her room, and a crane to lift her out of her bed. She was then flown in a cargo plane to India.
A spokeswoman for Muffazal Lakdawala, the doctor who is leading Eman's treatment, had said earlier that Eman's weight had been brought under 400 kilograms since she arrived in Mumbai in early February, by putting her on a strict 1,200-calorie, high fibre and protein diet, to reduce fluids in her body in order to enable doctors to operate.
Diagnosed with a parasitic disease called Elephantiasis — a condition that causes the limbs and other body parts to swell, leaving her almost immobile — Eman also suffers from sleep apnea, hypothyroidism, diabetes, hypertension, kidney problems and fluid retention.
In December 2016, Indian Foreign Minister Sushma Swaraj helped her obtain a visa to India, where a team of dedicated local doctors are supervising her case.
Eman was admitted to an Indian hospital in February after eminent Mumbai-based surgeon, Muffazal Lakdawala, succeeded in his fundraising drive to fly the Egyptian to India for treatment.