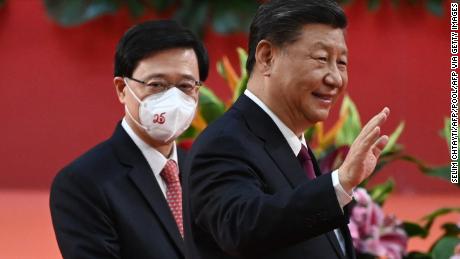 Hong Kong (CNN)Chinese leader Xi Jinping on Friday claimed "true democracy" began in Hong Kong 25 years ago when China assumed control, as he marked a symbolic anniversary for the city transformed by his political crackdown.
"After its return to the motherland, Hong Kong compatriots became masters of their own affairs, Hong Kong people administered Hong Kong with a high degree of autonomy, and that was the beginning of true democracy in Hong Kong," Xi said in a keynote address to Hong Kong officials to mark the 25th anniversary of the handover.
The former British colony is now at the halfway point in the 50-year promise of "a high degree of autonomy," given by Beijing under a framework known as "one country, two systems."
But critics, including Western governments, have accused Beijing of breaching those promises in recent years as it tightened its grip on Hong Kong.
In 2020, a year after 
anti-government protests
 had rocked Hong Kong, Beijing imposed a sweeping national security law on the once freewheeling city. Two years later, no opposition lawmakers remain in the Hong Kong legislature, while nearly all of its leading pro-democracy figures, including activists and politicians, have either been forced into exile or imprisoned — with dozens of them behind bars.