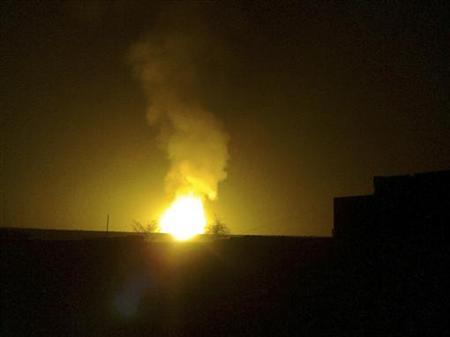 Yemeni negotiators at UN-sponsored peace talks agreed on Saturday to form a committee to oversee a fragile ceasefire but the day ended without further progress being amid strong mutual distrust, sources close to the talks told Reuters.
Fresh fighting in Yemen also threatened the peace talks, which end on Sunday, their sixth day. The eight-month conflict in impoverished Yemen has killed thousands of people and caused a major humanitarian crisis.
The ceasefire committee will be headed by a Lebanese army general and consist of representatives from the Saudi-backed government of Yemen's President Abd-Rabbu Mansour Hadi and from the rival Houthi movement, which is allied to Iran.
But after the apparent breakthrough on the committee, Saturday's round of talks did not yield more results.
Face-to-face talks between Hadi's government and the Houthi group have not occurred since Wednesday evening after the Houthis rejected demands for the release of detained senior officials, including Yemen's defence minister and Hadi's brother, said sources close to the talks.
The UN special envoy, Ismail Ould Cheikh Ahmed, is shuttling between the two sides to try and bridge differences.
Disagreements were over a proposed prisoner exchange and the opening of a humanitarian corridor to the war-torn city of Taiz, the sources said.
In addition, a rare one-week truce meant to facilitate the negotiations was compromised on Saturday afternoon as clashes broke out between Houthi fighters and Saudi troops along the Yemeni-Saudi border.
Both sides accuse each other of violating the ceasefire.
Saudi's Civil Defense Force said on Twitter that a rocket fired from Yemen killed two Saudi workers and injured a civilian in the Saudi border city of Najran.
The United Nations Special Envoy for Yemen voiced deep concern at "numerous reports of violations of the cessation of hostilities", a UN statement said on Friday.
Yemen, which was swept by mass Arab Spring-inspired protests in 2011, was this year plunged into war after the Houthis overthrew the central government, prompting Saudi Arabia and other Arab states in March to launch a bombing campaign.
Troops loyal to Hadi seized an important northwestern city and a military base from Houthis on Friday who still control the capital Sanaa, residents and tribal sources said.
Planes and gunboats from a Saudi-led military coalition also bombarded targets in northern Yemen, residents said.
The Houthis say they are ready to free the prisoners once a permanent ceasefire is agreed, another source close to the talks told Reuters.
Hospital sources said on Saturday that limited medical aid had reached a few Houthi-controlled districts in the central city of Taiz, one of the worst-affected cities.