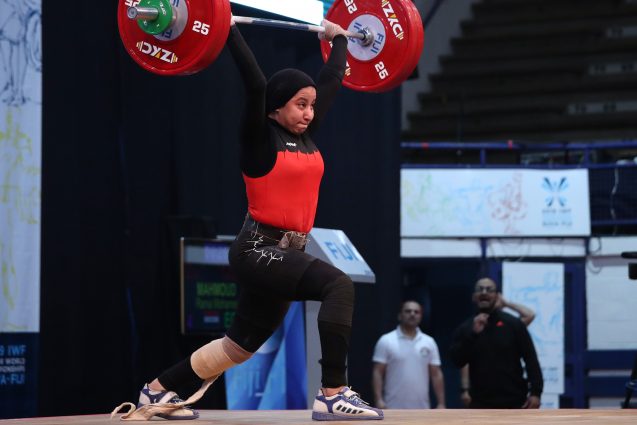 Egypt's Minister of Education honored Rania Mohamed Ezzat, the Egyptian junior weightlifting champion, who recently made history by winning first place in the World Weightlifting Championship and bagging three medals–two golds and one silver–at the International Weightlifting Federation (IWF) held in Fiji, an island country located in Melanesia, earlier this month.
In the same vein, Mohamed Ali Tantawy, trainer of the national team for weightlifting, was honored for having a splendid impact on the Egyptian winner through support and good training.
Impressing competitors from around the world coming, from New Zealand, Turkey, Kazakhstan, Vietnam and more, Ezzat lifted a total of 219 kg during the remarkable competition. In the category of 76 kg weight, Ezzat pinched the two golds in the snatch with 122 kg, in addition to winning the silver medal in the clean and jerk with 97 kg, according to IWF's official website.
Ezzat has won numerous international competitions she has participated in, among which was recently the African championships held at the end of last year, where she won the 71 kg category, according to IWF.
In the African Weightlifting Championship, Ezzat made a triumphant appearance, claiming three gold medals in the under-18 division in the 75 kg category along with another three golds in the under-21 division in the same category, IWF reported.
The young Egyptian champion collected three gold medals in the category 63+ in the African Youth Championship that took place in Algeria and ran from July 19 to 28 last year, according to Women of Egypt.
Photo credit: IWF