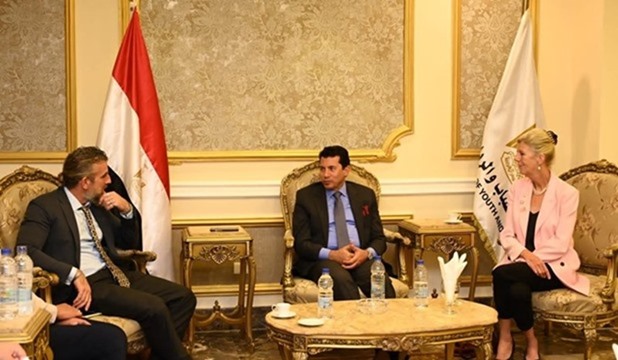 Youth and Sports Minister Ashraf Sobhi had a meeting on Friday with the representatives of the United Nations Population Fund (UNFPA) and UNICEF in Egypt Frederica Meyer and Jeremy Hopkins respectively to discuss the most important activities and events of the 17th UN Climate Change Conference of Youth (COY17) in Egypt.
The COY17 activities and events were launched by the Youth and Sports Ministry, in cooperation with the UNICEF across Egypt's governorates.
Egypt hosts the COY17 in the Red Sea resort of Sharm El-Sheikh on November 3-5 on the sidelines of the upcoming 27th session of the UN Climate Change Conference (COP27).
During the meeting, the two sides reviewed the 2022-2027 National Strategy for Youth, which was outlined by the Youth and Sports Ministry, in cooperation with the UN Population Fund and the Arab Academy for Science, Technology and Maritime Transport (AASTMT).
In press statements, the youth minister said that the Youth Ministry witnesses a major boom in the fields of qualifying youth for the labor market and digital skills.
The youth have had the largest share of support and care of President Abdel Fattah El Sisi since he took the helm, he stressed.
He further noted that the representatives of the UN organizations in Egypt lauded efforts made by the Ministry of Youth and Sports in the file of qualifying young people for the labor market and honing their skills.