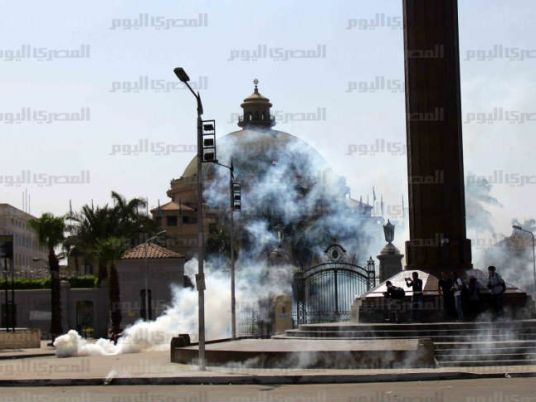 Hardcore supporters of the Zamalek Sports Club protested at a number of universities on Monday, condemning the deaths of 19 colleagues outside a Cairo football stadium earlier in February.
Dozens of White Knights (WK) protested at Cairo University over the deaths of their friends outside the Air Defense Stadium at the beginning of their team's premier league match with ENPPI, the news website Youm 7 said. The demonstrators shouted slogans against police and demanded retribution for the deaths.
Police forces, meanwhile, intensified their deployment outside the university in preparation for potential violence.
While the Interior Ministry said the fans did not have tickets for the game and blamed the deaths on a stampede, WK accused police of indiscriminately firing tear gas at supporters crammed inside a narrow stadium gateway.
At Helwan University, WK protesters lit fireworks and were joined by students loyal to deposed president Mohamed Morsi, Vetogate news website said.
At Fayoum University, police invaded the campus and chased protesters while firing tear gas to disperse them. Students responded by hurling stones at the forces, according to the Revolutionary Socialists' Facebook page, a leftist activists group.