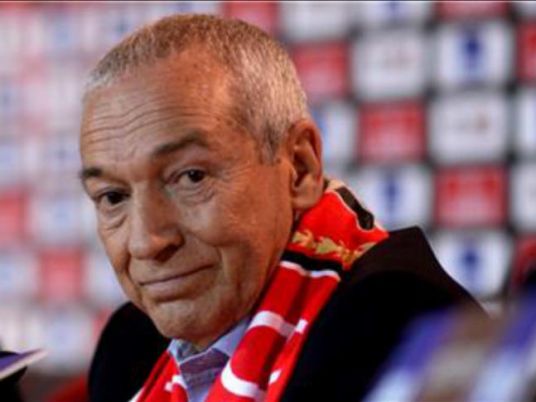 The Zamalek Sports Club has issued a statement in response to Portuguese coach Manuel Gesualdo Ferreira's decision to suddenly terminate his contract with the club on Saturday.
Ferreira's decision came nearly four months after he won the Premier League's title with his team, an achievement that ended an 11-year drought for the team. The title was later coupled with the Egypt Cup.
Ferreira wrote an open message to his Zamalek fans apologizing for his decision, which he attributed to payment delays, as well as previous disagreements with club president Mortada Mansour whom he accused of intervening in his work.
"As you may know, the club's president has struggled for months to force me to leave the club and intervened with my work many times. Most recently, he abstained from disbursing a three-month payment for me and my assistants, in addition to rewards for scoring the Premier League and the Egypt Cup," Ferreira wrote on his Facebook page in Arabic.
His statement backfired, with the club issuing an angry statement accusing the former coach of "playing on fans' emotions".
"He claimed he had not been paid for four months, and he knows he is lying," the club's statement said. "His new contract went into force only two months ago, so, how would he agree to sign a new contract if he was actually entitled to a two-month payment delayed from the previous season as he falsely claims?"
The club said Ferreira intentionally abstained from receiving his salary though, the club says, he had been notified of the deposit. The statement accused the former coach of leaving Egypt without notifying the club's board, breaching a by-law that requires a prior written approval from the club's president.
"We remind our great Zamalek SC fans that runaway Ferreira took over the team while it was already on top of the league's chart, eight points away from the closest competitor," the statement read, attributing the club's victory for the recent season to the "players' valiance."
Zamalek SC president Mortada Mansour was seen on many occasions speaking to TV reporters about his discontent with Ferreira's match tactics.
"Ferreira is a loser and is unable to manage an important match," Mansour told satellite TV channel Abu Dhabi Sports following the team's defeat to arch rival al-Ahly in the Egyptian Super Cup held in the UAE in October.
Edited translation from Al-Masry Al-Youm