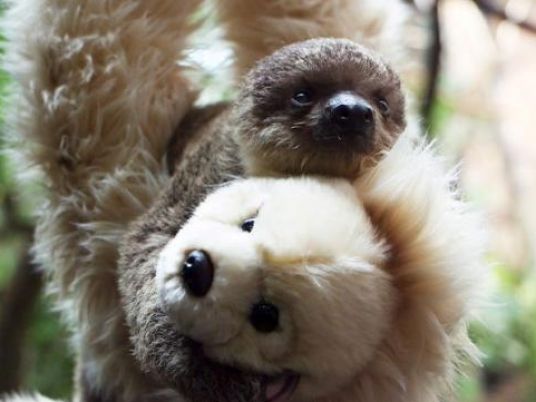 When baby sloth Edward Scissorhands' mother stopped producing milk and could not care for her infant, a London zoo keeper stepped in as a replacement mother – with the help of a teddy bear from a gift shop.
The two-toed, seven-week sloth, born to second-time parents Leander and Marilyn, is being hand-reared by zoo keeper Kelly-Anne Kelleher at London Zoo.
"I want the baby to use all of the muscles that he would be using if he was on his mother so what we've done is we've got some carabiners and attached them to the limbs of the teddy bear," Kelleher said.
"We hang up this teddy sort of about six inches from the ground so that if the baby does slip, he's not going to hurt himself and he is able to climb all the way around the teddy and make himself comfy however he wants to be."
He was named after the Johnny Depp character in the 1990 "Edward Scissorhands" film because of his claws, expected to grow up to four inches (10 cms) in length.
Usually found in the forests of South America, the nocturnal, tree-dwelling sloths are known for being very slow-moving.