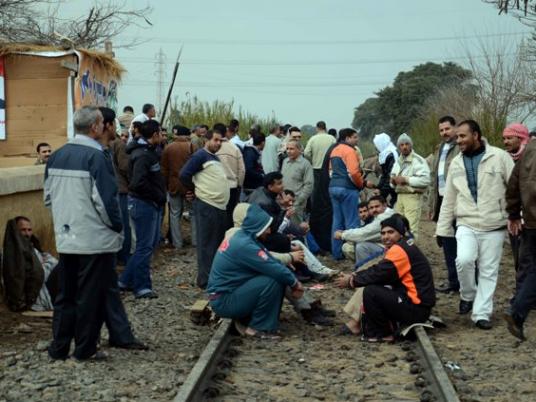 Four police officers and six workers were injured as security forcibly dispersed protests by workers from the Samanoud Felt Fabric Company Saturday in Gharbiya.
Security forces arrested three of the workers who decried delayed payments and deteriorating company conditions.
The forces fired a barrage of gas bombs upon the demonstrators who were blocking railway lines and pelting police with stones. Negotiations to end the protest on the railroad tracks had failed.
Mohamed Sharshar, who heads the Health Ministry's department in Gharbiya, said the central hospital in Samanoud had received ten people who were injured in the incident. He said injuries ranged from possible gunshots, suffocations and meager bruises. He said all patients were in a stable condition.
Gharbiya security chief, Hatem Othman, said security "maintained self-restraint for awhole six hours and negotiated with the workers to reopen the railroad and move their sit-in to the company's building," adding that workers turned down the offer.
Hundreds of company workers have entered their third week of strike, stalling railway movement between the provinces of Damietta, Daqahlia and Gharbiya.
Hesham al-Banna, a member of the company's staff union, said workers resorted to escalation in the third week in vain, noting that workers had still not received their September salaries. He said authorities failed to respond to their demands which they had submitted in the presence of Manpower Minister Ahmed Abu Eitta and trade unions officials.
Edited translation from Al-Masry al-Youm