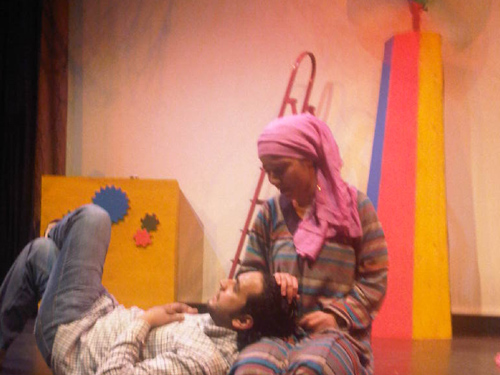 The sixth annual 100Live Electronic Music Festival takes place Thursday and Friday, 14 and 15 June, in downtown Cairo. Ten acts will play in the black box of Rawabet Theater. Organized by music label 100Copies, the relatively small festival is a major event for the local electronic music scene, an incubator for the avant-garde, a listening post for a year in music.
That said, don't ask label founder and festival organizer Mahmoud Refaat what to expect from the two days. "Adventurous and experimental" music is his forecast. About 1,500 people are expected to attend. Of the 10 acts, seven are from overseas: Wormholes and DNB from Lebanon, Molsen and YNFI-X from Tunisia, Hidden Orchestra from the UK, Conforce from the Netherlands, and DJ Animal Strabisme from France.
The local acts are Wet Robots & Bosaina, Ramsi Lehner and Kareem Lotfy.
"It's not for a lot of people anyway," adds Refaat, who wants the festival to stay a platform for promoting alternative music. Some of the acts are only produced for the festival, he says, as there are few other avant-garde electronic music festivals in the Egyptian capital. Local clubs tend to prefer more accessible DJ music, he says.
"We have chosen musicians on the label, and musicians working around the label," says Refaat of 100Copies. "They have an alternative way of working. We tried to invite musicians with two different musical influences: [electronic] and experimental combined with classical instruments."
It is the third time the festival will be held at Rawabet. Its location downtown carries a whiff of politics. Tahrir Square, with all its associations, is just down the road, and the major political parties are based nearby.
Refaat says he likes the concept of a music festival at the center of social and political ferment — though the festival itself is not making any particular political statement.
"It's a music festival. As we're not politicians, we're not contributing to politics. We're cultural people and contributing to culture. Most people working in culture think this is not the right moment to be holding festivals. But 100Copies doesn't think this way."
Three to four years ago, he adds, he would have said that electronic music is a rebellion against mainstream music. "I can't say that anymore, though," he says. The local scene is small but diffuse. Electronic music samples every genre: drum and bass, dub, ska, rock, pop, reggae, jazz and even local shaabi music.
While 15 years ago every Cairo club featured a rock band, these days you are more likely to find mixing decks and scratched vinyl. "It's not exactly the thing in Egypt anymore," the former heavy-metal rocker attests. "The concept of music is drifting somewhat."
The 100Live festival has grown every year since its 2007 debut. In that time, the label has also fostered a regional electronic music scene, linking up with the Moroccan Irtijal Festival (10 years old) and the Tunisian E-Fest (also six years old). Cairo musicians tend to collaborate with those in Beirut, says Refaat, while Tunisian and Moroccan musicians are more likely to look to Europe, especially France. But this began to change two years ago, when 100Copies began promoting music from beyond Egypt's western border.
Perhaps next year, Refaat hopes, the festivals will combine their programs and share local and international acts. The dream is to create a fortnight-long North Africa-wide festival.
The 100Copies label has also begun to promote shaabi and mahraganat music, which is usually only played at local weddings and nightclubs.
"It's not to make them popular, but to represent this music on stage at festivals," Refaat says of the new development. The label does not want to frame it as exotic, North African music, he says, but simply as good music in its own right.
Aside from the festival, 100Copies also has a radio station, 100Radio, and in coming weeks will open the 100Space studio and performance space off Talaat Harb Street downtown. Refaat hopes the venue will "push and accelerate" the quality of local electronic music. The space will likely hold a small gig every Friday — something understated enough to lure artists from their bedroom studios.
"They have to be interested in us, though," he says. "They have to come to the scene."