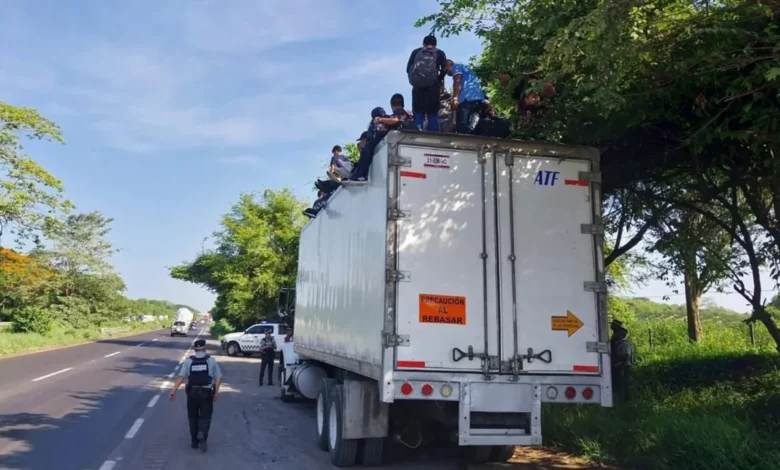 CNN
 —  Dozens of Central American
migrants
, including 23 unaccompanied children, were rescued Friday from a box truck abandoned on the side of a highway amid sweltering temperatures in the southeastern state of Veracruz, according to the Mexico's National Institute of Migration (INM).
"The INM rescued 148 migrants who were traveling overcrowded in the box of a trailer and were abandoned in life-threatening conditions on the side of the Minatitlán, Cordova highway," the institute said in a statement.
The truck was abandoned by the driver who is still at large, INM added.
The migrants came from Honduras, Guatemala, and El Salvador, INM wrote. Of the 148 people rescued there were women and men traveling solo, 23 unaccompanied minors and 44 families – which consisted of 115 people.
"Humanitarian attention was provided to groups in vulnerable conditions, and their health condition was checked. Once the procedure was completed, the adults were taken to the INM facilities to carry out the corresponding immigration procedures," it added.
The unaccompanied minors and family units will remain protected by the System for the Integral Development of the Family (DIF) and the Office of the Attorney for the Defense of Minors during their immigration process, the statement read.
Immigrants fleeing violence and poverty frequently travel through the state of Veracruz on their way to the United States.
Without documents, they ride trailers or atop freight trains known to be a vessel for immigration north, called La Bestia, the Beast. Many migrants have been killed or badly injured trying to complete the journey.
Many others have been found traveling in trucks and trailers. In 2021, Mexican authorities reportedly found 600 people hidden in two trailers. That same year, at least 55 people were killed and more than 100 injured when a truck overturned in southern Mexico.
Migration is very common from Central American countries like Guatemala, where extreme weather, violence, corruption, and a lack of economic opportunity have left many with no other choice.