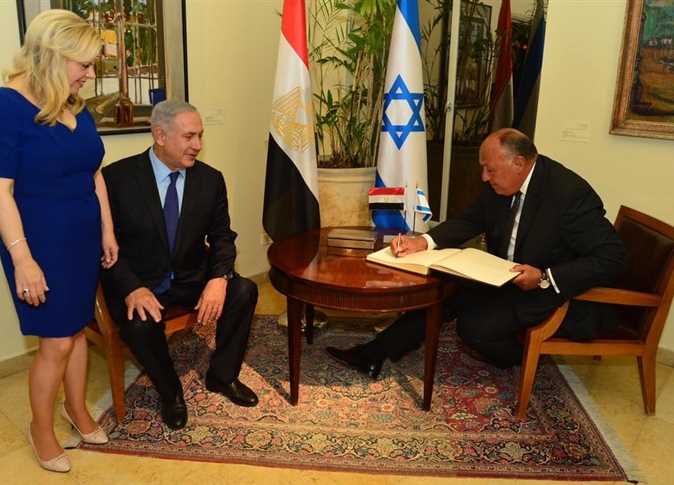 Massive controversy and outrage surfaced in Egypt's political and social media arenas on Monday in the wake of reports of two 10-year agreements between Israeli and Egyptian gas companies that will allow Israel to export natural gas to Egypt in a $15 billion deal.
Many Egyptians criticized the agreements and circulated news that claims the agreement was made between the Egyptian and Israeli governments. Moreover, Israeli Prime Minister Benjamin Netanyahu inadvertantly backed the same narrative by releasing a video statement in which he praised the agreements without clarifying the nature of the deal.
According to a press release issued by Delek Drilling Group, the private Israeli conglomerate which signed the deal, two of Delek's partners operating the two Israeli natural gas fields 'Tama'ar' and 'Luthian' have signed a 10-year $15 billion deal to export natural gas to an Egyptian private gas company known as Dolphinus.
The Delek group stated that its US-based partner, Noble Energy, will start negotiations with the East Mediterranean Gas Company, which is an owner and operator of the Arish–Ashkelon pipeline, to try and use its pipelines to transfer natural gas to Egypt.
In video footage published on Netanyahu's Facebook page, the Israeli Prime Minister describes the deal as a "historic" agreement, saying it will bring billions of dollars to the Israeli treasury.
He added that this money will be used to develop education, health services, and welfare for the Israeli people, asserting that possession of natural gas will foster Israel's security and regional relations. Netanyahu ended the video by saying that the day was considered a feast for Israel.
However, Egyptian petroleum expert and professor Ramdan Abu El Eila spoke to Egypt Independent on Tuesday and described Netanyahu's video as "political exploitation of a deal signed between companies."
Abu El Eila went on saying that "there is no direct relation to both governments with the deal. However, I advise President Abdel Fattah al-Sisi to follow same strategy of Netanyahu and to declare to Egyptians the benefits of the deal to Egypt."
He further explained that the nature of the deal is based around transferring the recently discovered liquefied natural gas (LNG) in Israel to Europe through Egypt, as the country benefits from a well-established infrastructure to transfer LNG easily.
He noted that LNG which arrives in Egypt will be moved to the main LNG stations located inside the Egyptian cities Edku and Damietta. There, he says, the Israeli LNG will be converted to natural gas in order to be used in  the local market by Egypt's private companies, or alternatively it will be exported to Europe via Egypt.
"Exporting the Israeli LNG to Europe after the conversion operation is the most likely act that will be undertaken; Egypt will get great benefits from this as it will become a Mediterranean Energy Hub," he asserted.
He also said that Egypt can use the current deal to pressure Israel to give up the $2 billion financial fine which was imposed against Egypt according to a judicial verdict, due to the suspension of the flow of Egyptian natural gas to Israel in the wake of repeated militant attacks which targeted the North Sinai gas pipelines in 2012.
Moreover, he clarified that the Egyptian private sector will not pay $15 billion to Israel, saying that the financial profits of the deal declared by Netanyahu will return to Israel when the LNG passes through Egypt and is exported to Europe as natural gas. Therefore, the $15 billion will come in the form of returns from exporting the natural gas to Europe via Egypt.
Meanwhile, MP Abdel Hamied Kamal said in a statement that he presented an official petition to the House of Representatives which called upon parliament to recall Egypt's Petroleum Minister Tarek El-Molla for discussion over the deal with Israel.
He referred to Netanyahu's declaration of the deal, and described it as a violation of Egypt's constitution, emphasizing that Israel is still considered an "enemy" to Egypt.
Meanwhile, official spokesperson of the Egyptian Petroleum Ministry Hamdy Abdel Aziz said in a statement that his ministry does not have a comment on any deals between private-sector companies.
He noted that the ministry will deal with any permission requests from private sector gas companies in accordance with the declared rules that stipulate that Egypt is aiming to become a regional hub for gas trade and circulation.
He further explained that the Egyptian government followed necessary measures to allow oil and gas private-sector companies to circulate and sell natural gas under the supervision of the Gas Market Regulatory apparatus.