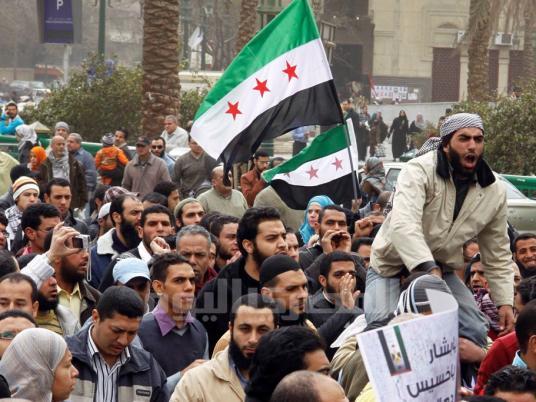 About 17 people have been arrested for attempting to break into the Syrian Embassy in Cairo Wednesday night and replace its flag with that of the Free Syrian Army, according to the Egyptian Interior Ministry.
About 50 people demonstrated in front of Qasr al-Nil police station Thursday as detainees were handed over to prosecutors.
More than 250 people, including Syrian and Egyptian activists, tried to storm the embassy around 6 pm Wednesday, the ministry said in a statement Thursday. When security forces tried to dissuade them, the protesters threw stones and tried to break into the embassy, ​​prompting the troops to confront them with tear gas, the ministry said.
Hundreds of activists and revolutionary groups had marched from Tahrir Square to the embassy in the Garden City neighborhood, demanding the severing of diplomatic ties between Egypt and Syria in light of the violence employed by President Bashar al-Assad's regime to crush the 17-month-old uprising against him.
Protesters fled to streets surrounding the embassy ​​to the Corniche, according to the ministry statement, where they threw stones and Molotov cocktails at security forces and police cars. The ministry alleged four security officials, including one police officer, were injured and two police cars and six guard booths damaged.
Among the 17 arrested is one Syrian activist. The ministry said the public prosecution is working to identify others who participated in the protests. The suspects face charges of assaulting security forces, violating laws governing peaceful demonstrations, attempting to break into a facility by force and destroying public property, according to a judicial source.
Qasr al-Nil prosecutors said 14 people were injured, including eight security officers who were taken to a hospital.
Edited translation from Al-Masry Al-Youm