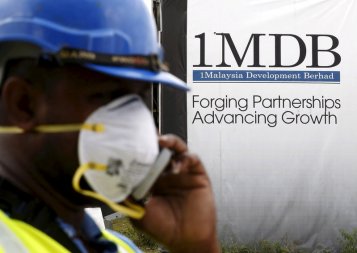 Abu Dhabi has given scandal-plagued 1Malaysia Development Berhad (1MDB) until August 31 to make a $603 million debt settlement payment that was originally due in end-July, an Abu Dhabi based source with knowledge of the matter said.
Under an agreement struck in April with Abu Dhabi state fund International Petroleum Investment Company (IPIC), the 1MDB fund agreed to pay $1.2 billion in two installments to IPIC, with the first of about $600 million to be paid by July 31.
But 1MDB failed to honor its commitment, forcing Abu Dhabi's sovereign wealth fund to give 1MDB a grace period of five days to make the payment. That deadline was to expire on Tuesday.
Missed payments by 1MDB, which is owned by the Malaysian finance ministry, are a matter of concern for foreign investors, who own a significant share of outstanding government bonds in the Southeast Asian nation. Allegations of fraud involving 1MDB have already spooked investors by weighing on Malaysia's economy and its currency.
On Tuesday, after the news of the extension, 1MDB's 4.4 percent $3 billion bonds due 2023 gained by a point to trade around 93.25/94.45 cents on the US dollar.
IPIC is due to make a regulatory disclosure about the latest deadline extension later today, the source said, declining to be named as the matter is not yet public.
Abu Dhabi's Mubadala, into which IPIC was merged earlier this year, declined to comment.
Malaysia's Treasury Secretary General for the finance ministry, Mohammad Irwan Serigar Abdullah, was quoted in state news agency Bernama as saying that 1MDB has got an extension to pay IPIC.
Abu Dhabi said last week that 1MDB and Malaysia's finance ministry will be subject to "additional obligations" if no payment was made at the end of the five-day deadline.
1MDB declined to comment when contacted by Reuters. The Malaysian firm said in its statement last week that it was committed to paying Abu Dhabi but there were delays due to "regulatory approvals" needed to get its funds.
It was unclear what approvals were pending for the payment.
1MDB, founded by Prime Minister Najib Razak, is the subject of money-laundering investigations in at least six countries, including the United States, Switzerland and Singapore.
In civil lawsuits, the US Justice Department alleged that about $4.5 billion was misappropriated from 1MDB.
1MDB has denied any wrongdoing and Najib has denied all allegations of corruption against him.
Malaysia dissolved 1MDB's advisory board last year, and its assets were either shifted to the government or sold off as part of the rationalization program.