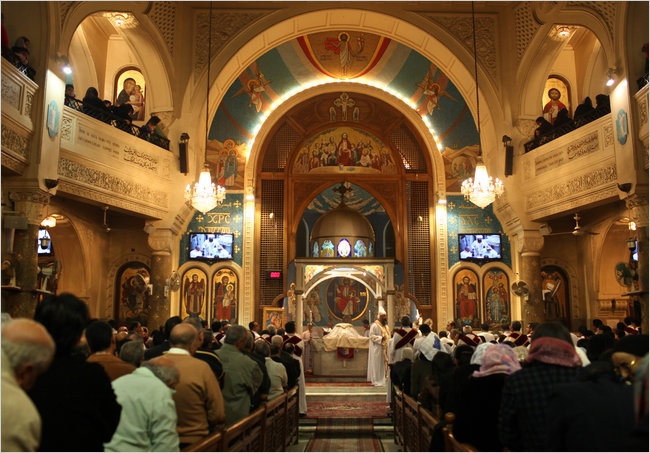 Minya and Abu Qirqas Archeparchy reopened on Sunday Anba Paula church in Kedwan village and St.Mary church in Ezzbet al-Furn in Minya governorate, after numerous Copts complained of preventing them from praying in the two churches.
His Grace Bishop Makarios, General Bishop of Minya and Abu Qirqas, praised President Abdel Fattah al-Sisi's efforts to reopen the two churches, asserting that both Muslims and Copts live harmoniously in both villages.
The Coptic Orthodox Church of Alexandria formed a committee headed by Anba Illarion to receive requests from Copts asking for obtaining licenses to perform rituals in closed churches, official spokesperson of Coptic Orthodox Church of Alexandria, Hegumen Paul Halim, told al-Masry al-Youm.
Security authorities in Egypt closed 29 churches, most of them located in Minya governorate, without justifications, Coptic intellectual, Soliman Shafiq, claimed.
Christian families in many villages usually perform prayers in houses every two weeks because churches exist only in big villages in Minya governorate, he added.
Security authorities still have closed down over 60 churches in Egypt, fearing that clashes will be ignited by extremists if they are opened, Chief of the American Coptic Association, Adel Ageeb, said, calling on President Sisi to give Copts permission to reopen them.
Ageeb urged Egyptian officials to allow for freedom of worship in Egypt and ensure equality between Egyptians.
Chief of the Maspero Youth Federation, Mina Magdy, pointed out that Egyptian authorities have closed 67 churches since 2012. They have reopened only three churches, he added, although the former interim President Adly Mansour promised to solve the case with the Coptic Orthodox Church during his meeting with representatives of young people in 2013.