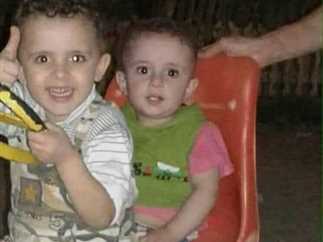 On Wednesday evening, Damietta investigators found the bodies of two children who were reported missing in Daqahlia governorate on the first day of Eid al-Adha, during an outing with their father at an amusement park.
Suspecting their abduction, the father, Mahmoud Nazmy, had filed a claim with Mitt Salsil Police Station reporting the disappearance of his children, Mahmoud and Rayan.
The father reported that a strange man stopped him and his children at the amusement park, claiming to be an old school mate.
Mahmoud did not recognize the man, who continued speaking to him for some time. By the time their conversation ended, the children had disappeared.
The father immediately promised a large reward to whoever could return his two sons, or report any information about their whereabouts or abductors.
Investigations and surveillance camera recordings then found that the abductors took the children into a tuk tuk, which drove them through al-Sarw road leading to Damietta governorate.
Finally, residents of the Faraskur area in Damietta found the bodies of the two children in the water channel.
Daqahliya police are continuing their investigation into the circumstances and motives of the crime.
Update – 3:40 PM, 23/08/12
Thousands of Mitt Salsil City residents participated today in the funeral of Rayan and Mahmoud, aged 3 and 4, respectively.
Amid a state of anger and sadness, the residents performed prayers for the two children at al-Kabeer Mosque.
The funeral-goers chanted "La ilaha illa Allah (There's no god but Allah), the martyr is God's sweetheart", amid hysterical crying by the victims' mother and family.
Edited translation from Al-Masry Al-Youm.