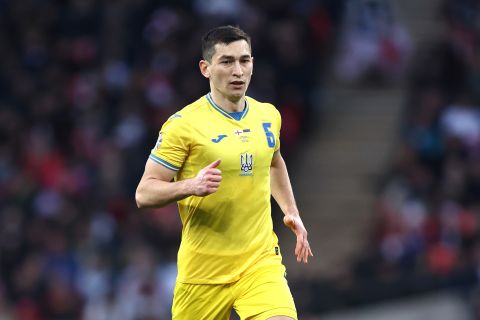 Ukrainian soccer player Taras Stepanenko, 33, still remembers hiding in a basement in Kyiv with his family as Russian troops approached the city, and the sound of gunfire and explosions filled the air during the initial days of Russia's full scale invasion of Ukraine.
They spent three days sheltering, unsure of what their fate would be, before eventually escaping the nation's capital.
"You're just a footballer, you have three kids and a wife and you don't know what to do. You don't know what to do if Russian troops come to your house," Stepanenko told CNN in London ahead of Ukraine's Euro 2024 qualifier against England in March.
The family moved south to get away from the fighting before eventually leaving the country and moving to Moldova, then Romania, before finally settling in Spain. Stepanenko is grateful to have escaped, courtesy of special conditions granted to him as a father of three children and also as a professional athlete.
Now, the imposing midfielder, who has played 72 times for his country, dedicates his life and career to raising awareness of Ukraine's fight. "I'm a footballer, so what can I do for my country? The best I can do is represent my country as a player […] and send the message to European countries and tell our story through football," he says.
Like Stepanenko, 29-year-old Ukrainian midfielder Ruslan Malinovskyi sees playing football as his national duty and a way of repaying those fighting on the frontline.
He was playing for Italian club Atalanta, preparing to play a Europa League match against Greek side Olympiacos, when he heard about Russia's invasion. After ensuring his loved ones were safe, he says he never in doubt about playing that evening.
Despite his mind being occupied by the escalating violence back home, Malinovskyi not only played against Olympiacos but scored two goals in the 3-0 win. When celebrating his first goal, Malinovskyi lifted up his jersey to reveal a message on his undershirt which read: "No War In Ukraine."
It was a moment that reverberated around the world. Since then, he has also set up a charity alongside his partner which has supplied much needed medical equipment for the children of Ukraine.
Both Malinovskyi and Stepanenko will be key members of the Ukrainian national team in its bid to qualify for the European Championships, hosted by Germany, in 2024.