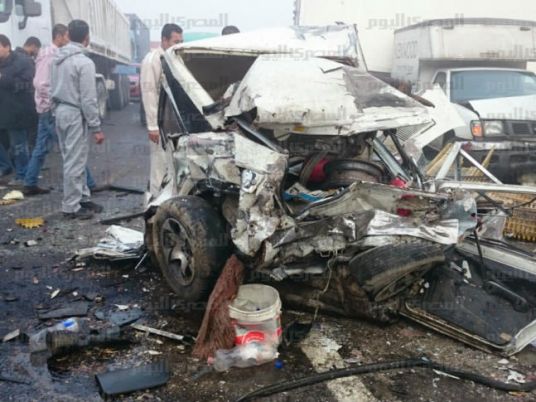 Three people were killed and two others were injured, suffering wounds and fractures, in a collision between two cars on Sohag-Red Sea highway in Akhmim, Sohag.
Director of Sohag Security, Major General Omar Abdel Aal, received a notification from Brigadier General, Mohamed Samy Abdel Raouf, the director of the Akhmim police station, of the collision on the eastern desert road Sohag- Red Sea at the km 65 towards Assiut.
According to initial investigations, the driver of the first car was Mohamed Ragab, 37, a Bachelor of Law holder who resides in Ismailia. The other driver was Sameh Mounir Abadir, 56, a jewelry trader who lives in Assiut.
The collision occurred when the right rear tire of the Ragab's car exploded causing it to collide with the Abadir, killing the two drivers and the Abadir's wife Eman Gerges, 50. The couples two children, 15 and 17 years old, were injured with several wounds and fractures to their bodies.
Edited Translation from Al-Masry Al-Youm