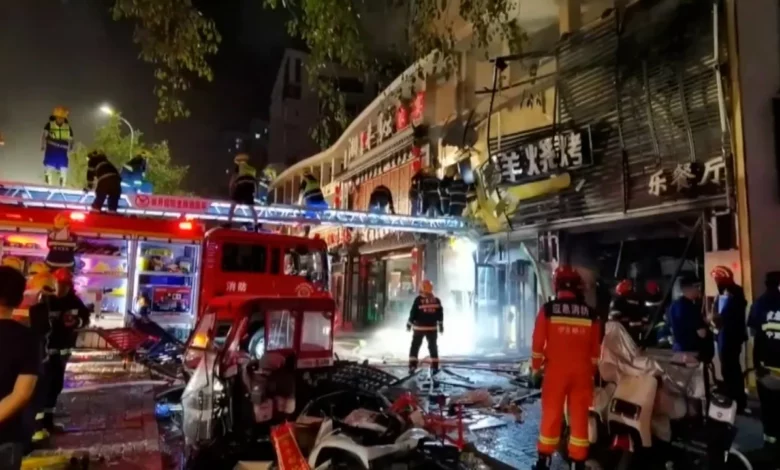 CNN
 —  At least 31 people are dead and seven injured in the Chinese city of Yinchuan, in northwest Ningxia region, after a gas explosion at a barbecue restaurant Wednesday night, according to state media.
The explosion was caused by a leak of a liquified gas tank inside the restaurant, and took place around 8:40 p.m., according to state broadcaster CCTV.
Among the seven injured, one person is still in critical condition. The other six are being treated in the hospital for minor injuries, burns and glass cuts.
Local fire authorities sent 20 vehicles and more than 100 personnel to the scene, with search and rescue operations lasting until 4 a.m. Thursday morning, according to state media.
Photos posted by state media show the damaged building, with blackened exteriors, debris on the ground and smoke in the air. Firefighters are seen entering the second floor on a ladder and lifting people out on stretchers.
Chinese leader Xi Jinping called the explosion "heartbreaking," and said it was a "profound lesson." He has issued instructions to authorities on the scene, requiring "all efforts" to treat the injured, strengthen safety supervision and protect residents' safety, according to CCTV.
Interviews by police and firefighters on the scene established that two restaurant staffers had smelled gas about an hour before the explosion, said the Yinchuan government in a statement posted online on Thursday.
The two staffers found the valve of the gas tank had broken, and sent another staff member to buy a new one. The explosion took place as the valve was being replaced.
Police have detained nine people and frozen their assets, including the restaurant's manager, employees and shareholders, according to state media China Youth Daily.
The restaurant is located on a busy street, state media reported. The incident came just before China began its three-day national public holiday, from Thursday to Saturday, marking the Dragon Boat Festival.
The country has been rocked by a number of safety incidents this year. A coal mine collapse in Inner Mongolia in February left 53 dead; then in April, the deadliest fire to hit Beijing in two decades killed 29 people in a hospital.