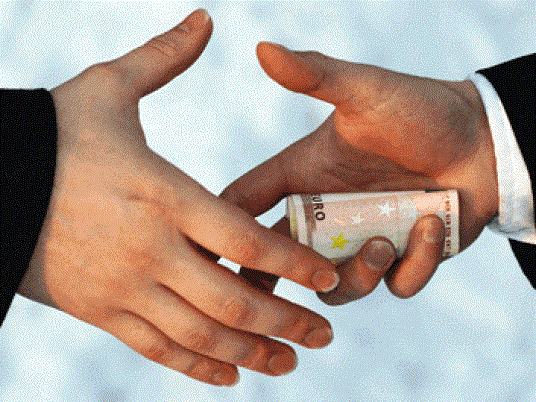 Public Prosecutor Nabil Sadek has referred the managing director for technical affairs at the Egyptian General Company for Tourism and Hotels (Egoth) and four others — all already remanded into custody — to Criminal Court over accusations of demanding and offering bribes in return for allowing contracting and importing companies, owned by three of the suspects, to carry out hotel renovations projects.
The suspects are Mamdouh Mohamed Abdo, Managing Director at Egoth (see above); Ahmed Abdel Fattah, Owner of Kenana Contracting Company; Lawrence Dawoud Youssef, Owner of Perfect Company; Salah Mohamed Safwat, Branch Manager of Arab Constructions Company; and Badawy Abdel Hamid, who mediated in the bribes.
Investigations showed that Abdo, the first suspect, demanded bribes for three services with a value amounting to around LE five million.
Through alleged mediation by Abdel Hamid, Abdo received LE700,000 out of a total of LE one million as a bribe, to allow Kenana company to install the main kitchen at Mena House Hotel.
He also received LE one million from Dawoud to allow Perfect Company to renovate the rooms at the Mariott Hotel in Cairo.
Abdo asked for LE2.9 million from Safwat for allowing his company to develop the club, swimming pool and one of the restaurants at the Mariott. Out of the amount they agreed on, he received LE1.12 million.
The three suspects who offered the bribes admitted the details during investigations. Abdel Hamid also admitted his mediation in asking for bribes from abdel Fattah for Abdo. Abdo also confessed to getting other money, but he did not admit receiving as bribes.
The investigations included audio and video recordings by the Administrative Control Authority after being permissioned by Supreme State Security Prosecution.
The prosecution accused Abdo, as a civil servant, of demanding and getting bribes to fulfill tasks related to his duties.
The other three suspects were accused of offering bribes to a civil servant, while Abdel Hamid was accused of mediation to offer a bribe to a civil servant.
Edited translation from Al-Masry Al-Youm