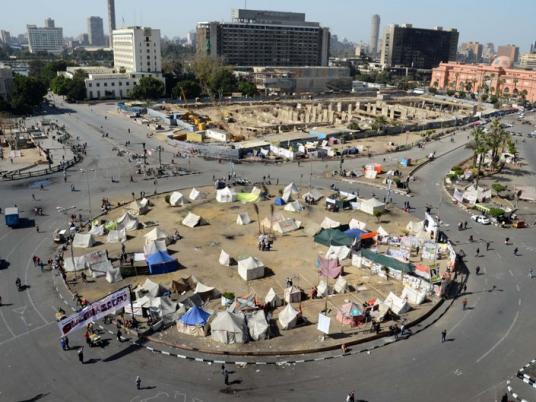 Qasr al-Nil Prosecution ordered 50 people detained pending investigation Wednesday after they were arrested in Tahrir Square.
The detainees, who were taken into custody as security forces cleared the square Tuesday, denied the accusations of thuggery, hindering traffic, assaulting police, rioting and violating public order.
A prosecution team went to the fifth settlement court to conduct investigations.
Chief police investigator for Cairo, Major General Gamal Abdel Aal, said on Tuesday police had arrested 55 protesters who were blocking the square, some of whom allegedly possessed weapons.
Officials did not specify Wednesday whether the other five protesters had been released.
"Police attempted to open the square to allow traffic flow in the downtown area without harming any of the protesters or their tents set up in the central garden," Abdel Aal had said, alleging that protesters attacked police using Molotovs and damaged two of their vehicles.
Anti-government protesters, who have been camped out in the square to demonstrate against Islamist rule, closed the midan again four hours after it was opened to traffic on Tuesday.
Edited translation from Al-Masry Al-Youm