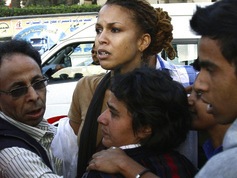 The National Council for Woman (NCW) and the United Nations Development Programme (UNDP) in partnership with the ministries of Justice, Interior and Foreign Affairs geared up efforts to draw up an action plan targeted specifically at eliminating the widespread phenomenon of violence against women.
A United Nations study, conducted in 2013, revealed that 99% of Egyptian women have subjected to either verbal or physical abuse.
The program is set out to provide efficient, precise mechanisms in a bid to foster the capacities of government institutions as well as raise the public awareness about the ramifications of violence against women and girls in practically, and families and society as a whole.
In addition, it also aims to develop technological applications through which citizens' participation is promoted by linking reporting with law enforcement actions.
"Violence against women and girls is wrong. As human beings we mustn't tolerate this suffering endured by women and girls and accept that perpetrators of these despicable acts get away with such offense. I believe a zero-tolerance policy is required; it is a basic human right that admits no ambiguity," Ignacio Artaza, UNDP Country Director, said during the official launch event.
The launch of the program was announced by Ambassador Mervat Tallawy, President of the NCW, Ambassador Sherif Refaat, Assistant Minister of Foreign Affairs and Director of the International Cooperation Department at the Ministry of Foreign Affairs, and Mr. Ignacio Artaza in the presence of delegates from the ministries of Interior and Justice.
Besides funding the program, the UNDP will support Egyptian authorities to follow in the footsteps of other countries, which successfully implemented effective practices while paving the way for national efforts to tackle this escalating issue.