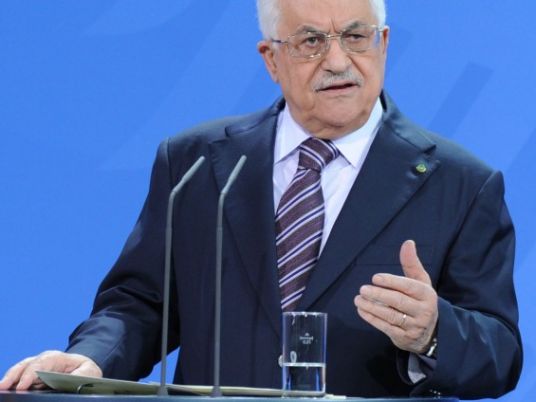 Palestinian Authority President Mahmoud Abbas has arrived in Cairo to push for peace with Israel and salvage hopes of factional reconciliation, according to a source at the Palestinian Embassy in Cairo.
The Palestinian leader arrived in the Egyptian capital on Saturday to discuss ongoing peace talks between the Palestinian Authority and Israel, as well as floundering reconciliation attempts with Hamas, according to state-run Palestinian news agency Wafa.
He will meet with interim President Adly Mansour, army chief and Defense Minister General Abdel Fattah al-Sisi and Prime Minister Hazem al-Beblawy during the three-day stay.
"We the Palestinian people believe that Egypt plays an important regional role in achieving peace in the Middle East, which helps the Palestinian people in achieve their aspirations of establishing a Palestinian state," a diplomatic source told Egypt Independent on Sunday. "This visit comes in line with strengthening already cordial relations and mutual cooperation between Palestine and Egypt."
This is Abbas' second visit since the 3 July overthrow of Islamist President Mohamed Morsy. Palestinian officials are hoping to use Egypt's historic role as a brokering force end a six-year impasse with Muslim Brotherhood-linked government Hamas in the Gaza Strip.
"Egypt has always played a vital role [in reconciliation] and we're sure they will continue in bringing an effective role," the source said. "Egypt is the main supporter of the Palestinian cause, as well as the Palestinian people's rights, so we believe their government will continue supporting us in every way."
Representatives from Palestine's two main factions – Hamas and Fatah – met in Cairo in January, riding high on a wave of unifying rhetoric and national confidence after the November assault on the Gaza Strip.
A subsequent ceasefire mediated by Egypt's then-president, Mohamed Morsy, was seen as a major foreign policy achievement for an administration struggling with an out-of-control economy, political unrest and growing opposition at home.
Shortly afterwards, the Palestinian Authority's admission to the United Nations General Assembly left both sides more open to talks. Hamas and Fatah reciprocated goodwill gestures by allowing each group's supporters to rally in the West Bank and Gaza respectively.
On 9 January Hamas political bureau leader Khaled Meshaal and Abbas met for talks, mediated by Islamist President Mohamed Morsy's government, in Cairo. They pledged to hold parliamentary and presidential elections across the Occupied Territories within three months, ending division with the creation of a national unity government. That has yet to become a reality.