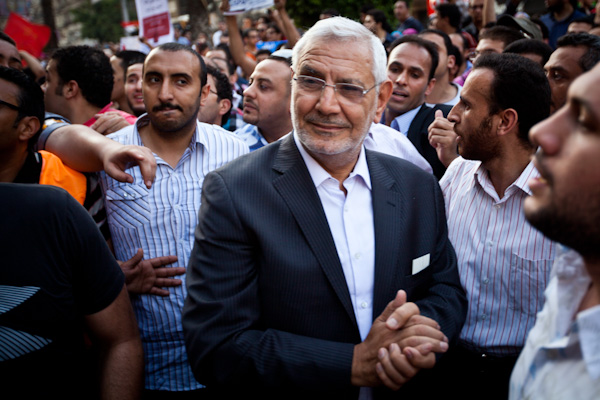 A proposal by the 2012 presidential candidate and dissident Muslim Brotherhood leader Abdel Moneim Abouel Fotouh to run early presidential elections has backfired with pro-government analysts and politicians deeming it unacceptable.
Last week, Abouel Fotouh, on his website, presented his vision for a way out from Egypt's political crisis, suggesting early presidential elections within one week and the release of all "opposition" leaders and political prisoners held without trial since the ouster of former president Mohamed Morsi in 2013.
According to Abouel Fotouh, who supported Morsi's ouster but condemned the subsequent government's crackdown on opposition, said his vision for democracy requires "the inclusion of all component currents" which show commitment to the conditions of peaceful, declared and constitutional activity.
But his suggestion to include all political stripes and early elections did not appeal to many commentators who saw it as an attempt to save his old group from demise.
"Egypt does not need early presidential elections which those in power and the majority of people find unjustified", wrote Amr al-Shobaky, a former MP and a political analyst in a column at Al-Masry Al-Youm Thursday.
"State bodies are not detached from their patrons, are close to their rhetoric and contribute to it. That makes it impossible to accept the idea of early presidential elections, even theoretically", he worte.
Shobaky added that Egypt, however, could use "genuine, pluralistic elections within three years".
Tareq al-Bishbishy, a former Muslim Brotherhood leader, sees the proposal an attempt to "save the Muslim Brotherhood from their catastrophic fate", as he put it in an interview with the website of independent newspaper Youm7.
But others believe Abouel Fotouh, the chairman of Misr al-Qawia Party, is only seeking personal gain.
"The initiative by Misr al-Qawia Party chairman was not meant to present a viewpoint carrying an exit from the current crisis, but he rather wanted to reintroduce himself as a politician with a role in the political scene after a long absence", Tarek Abul Saad, a researcher in Islamist movements, told Albawabhnews News website.
Mohamed Abu Hamed, a former MP and an ardent opponent to the Muslim Brotherhood, said Abouel Fotouh "has no capacity to speak for the people", adding on his twitter page that "Egypt has a legitimately elected president who enjoys an undeniable popular support", as he put it.
Abouel Fotouh's party, however, clarified that its chairman had not made any official proposal to the current authorities.
Misr al-Qawia spokesperson Ahmed Imam told Qatari Aljazeera news website that Abouel Fotouh was merely offering "a vision and an account of the past two years" which followed Morsi's ouster.
"An initiative is offered to a party that is ready for dialogue and debate, while the current authorities are not handling any initiative and never seeks a solution," Imam said, adding that similar proposals like Abouel Fotouh's had been turned down.