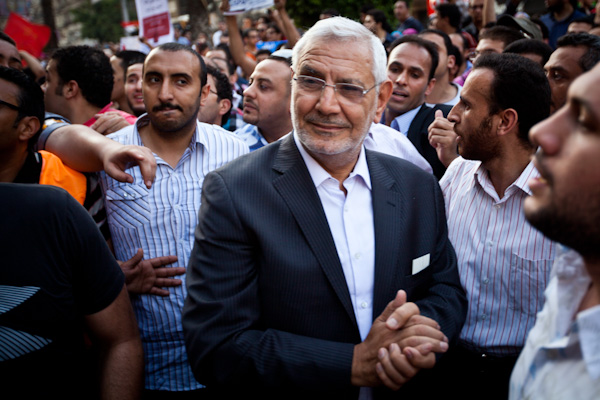 Former presidential candidate Abdel Moneim Aboul Fotouh said on Wednesday that a call by Egypt's military chief for people to take to the streets on Friday will bring further violence, urging the army to withdraw its demand in the interests of stability.
He added that such a call, made by Defense Minister General Abdel Fattah al-Sisi on Wednesday morning, could lead to a civil war.
Supporters of ousted President Mohamed Morsy, who are camping at Rabea al-Adaweya Square in eastern Cairo, have responded by calling for over 30 demonstrations on Friday.
On Wednesday, Sisi called on Egyptians to take to the streets on Friday to give the army a mandate to confront what he described as "violence and terrorism," which Aboul Fotouh said undermined the idea of a politically neutral military in Egypt.
Aboul Fotouh defected from the Muslim Brotherhood in 2011 and ran for the presidency independently.
Meanwhile, former presidential candidate Amr Moussa strongly supported Sisi's call and urged for authorities to protect protesters on the day.
He admitted he regretted the call had not come jointly from the army and the interim administration, led by President Adly Mansour.