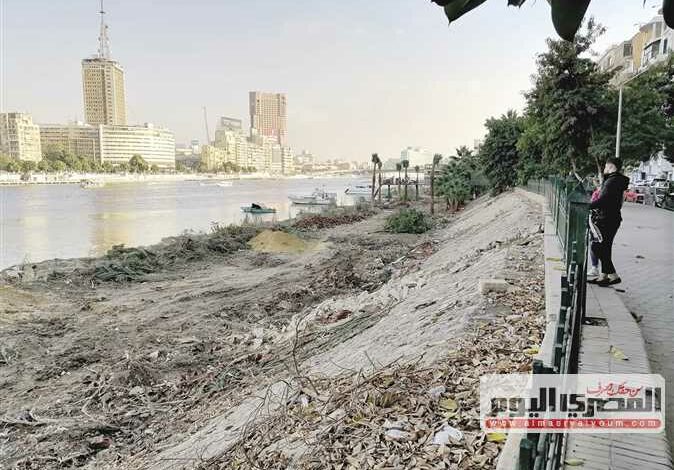 Many of the trees located in Saraya al-Jazeera Garden, located directly on the banks of the Nile, were removed on Mohamed Abdel Wahhab Street in Zamalek, on Tuesday to establish a garage project, prompting residents to launch an e-campaign in protest.

The residents of Zamalek launched the campaign through hashtag #No_to the Garage_Saraya_Al-Jazeera, sharing footage equipment used to remove the trees and other plants in preparation for the project.
Zamalek resident Hani al-Qally told Al-Masry Al-Youm that the Zamalek local authorities used bulldozers and heavy equipment on Tuesday remove the palm trees and pave the garden, noting that the step came a few days after a protest against plans to build a multi-story garage in Saraya Al-Jazeera Garden.
Qally explained that the residents of Zamalek are preparing to file an official complaint with the presidency to announce the rejection of the project in an attempt to stop it.
"About a month ago, bulldozing work began at the Saraya Al-Jazeera garden located on the Nile, removing trees, to start construction work on the lower garage at the level of the Nile," he said.
Qally added that after communicating with the executive authorities, the work was stopped, but a week ago the demolition equipment resumed work and the garden was completely bulldozed to start construction officially.
A number of members of the House of Representatives submitted briefing requests rejecting the project.
MP Maha Abdel Nasser, a member of the House of Representatives for the Egyptian Democratic Party, stressed that the removal of trees and gardens is not commensurate with the government's pledges at the UNCOP27 conference.
Former officials including the former Secretary General of the Arab League Amr Moussa the former Foreign Minister Nabil Fahmy,  and the former Minister of Trade and Industry Mounir Fakhry Abdel Nour joined the campaign.
Al-Masry Al-Youm asked Cairo governorate officials to comment on the removal of the trees but received no response.
Edited translation from Al-Masry al-Youm