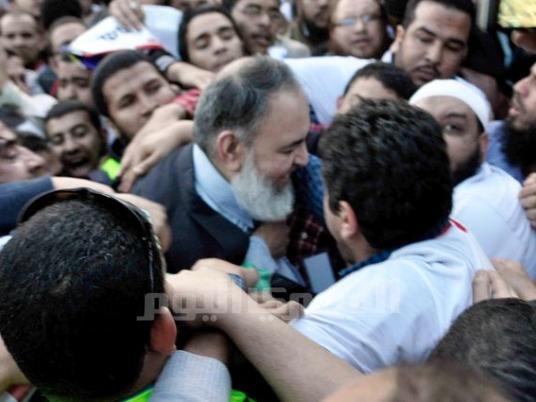 Salafi preacher and former presidential candidate Hazem Salah Abu Ismail called on all Egyptians to gather in Tahrir Square Friday for a mass protest against the supplementary constitutional declaration.
Speaking to Al-Masry Al-Youm on Wednesday, Abu Ismail demanded that President Mohamed Morsy be granted full powers and that the Supreme Council of the Armed Forces withdraw the addendum.
"The SCAF should leave power immediately and return to the barracks," Abu Ismail said, wondering, "How do we accept that our dignity be in the hands of 19 people from the military?"
The Muslim Brotherhood and its political arm the Freedom and Justice Party announced their intention to participate in the protest to reject the Supreme Constitutional Court's recent verdict overruling Morsy's decree to reconvene the People's Assembly.
Brotherhood Guidance Bureau member Abdul Rahman al-Barr said that the Muslim Brotherhood continues to sit-in at Tahrir regardless of whether or not a demonstration is called for by political forces.
The number of Muslim Brotherhood members in the square will double during the protest called for by Abu Ismail, as well as any other protest for national consensus, said Barr.
FJP leader Karem Radwan told Al-Masry Al-Youm that protesters in Tahrir started an open-ended sit-in Wednesday evening to emphasize the demands of the revolution and support the President and the return of the People's Assembly.
Khaled Saeed, media spokesman of the Salafi Front, said, "The front will not miss any event that supports President Mohamed Morsy," adding that "there is full coordination with the Muslim Brotherhood on joint events in squares across the country."
The Salafi Asala Party also announced its participation in the protest. Adel Afify, the party chairman, said his party would mobilize its supporters to call for the presidential powers being taken back from the SCAF.
Edited translation from Al-Masry Al-Youm