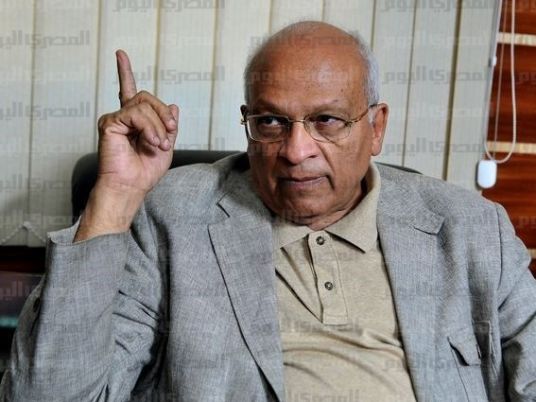 Novelist Gamal al-Ghitany, an author of historical and political novels and commentary, died at the age of 70 at the Galaa Military Hospital on Sunday, after reportedly being sick for more than two months.
His funeral will take place on Sunday evening at the Sayeda Nafisa Mosque in Cairo.
In the 1950s, al-Ghitany began writing his first short stories at a young age. He was tortured after being arrested and thrown in prison in the 1960s under President Gamal Abdel Nasser.
He made a career switch to journalism in the 1970s and began working for Akhbar Al-Youm. He also worked as a war reporter and reported on the front lines of the Arab-Israeli conflict.
One of his most notable career markers came when founded Literature News magazine in 1993, owing to his passion for literature and writing. In 2015, he was awarded the Nile Award for Literature, the highest literary honor awarded by the Egyptian government.
He once wrote: "I know that this world has an end … I get sick when I stop writing … I write to resist death."
He read and was inspired by Victor Hugo's "Les Miserables" when he was just seven years old. In 1959, he wrote his first novel, "The End of a Drunkard." Another of his book's, "Ketab Al-Tagaliat", was a blend of poetry, fiction, philosophy and mysticism. Mahmoud Amin Al-Alem said it was a phenomenon in contemporary literature and Ahmed Bahgat called it a massive book.
He was inspired by Jalal al-Din al-Rumi's words: "If you want to look at the center of the world, look at yourself." His other books include "Mustafa Amin Remembers", "Naguib Mahfouz Remembers" and "Tawfiq al-Hakim Remembers".
Ghitany, who was a friend of Naguib Mahfouz, once said he does not care about reactions to his writings. The nation to him is above all, he once said.
Despite being imprisoned under President Nasser, he thought highly of him. President Sadat, to al-Ghitany, was the worst thing that happened to Egypt. He accused him of selling Egypt in an auction with his "open-door" policy. Al-Ghitany also belonged to a small group of communists.
Al-Ghitany believed that the January 25 Revolution had two faces: the first was innocent, whereby ordinary people came out and demanded change, and the second was hidden and linked to attempts to reformulate the Middle East. The June 30 Revolution to him was as great as the 1919 revolution, and President Abdel Fattah al-Sisi was as great as Saad Zaghloul.
Yet, he still admitted that disastrous errors occurred after the revolution. He said he did not mind the presence of the army in the political scene, saying he believed certain Islamic and international forces wanted to destroy the country.
Al-Ghitany said Literature News was a strong cultural opposition magazine. He once said that the only thing he regretted was working in journalism.
Edited translation from Al-Masry Al-Youm