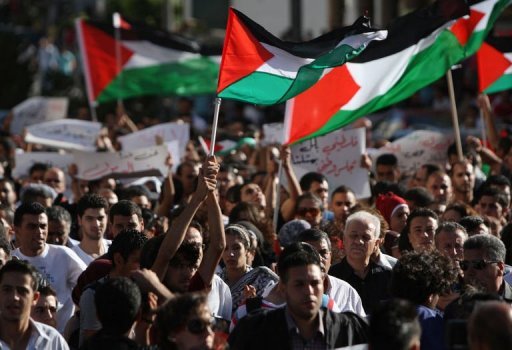 RAMALLAH — Hundreds of Palestinian activists
demonstrated in the West Bank city of Ramallah on Tuesday to protest against the violent dispersal of two similar rallies at the weekend.
Watched by only a handful of local police, the activists waved Palestinian flags in a rare expression of public discontent with the West Bank's ruling Palestinian Authority headed by president Mahmoud Abbas.
The demonstration, called by the youth group "Palestinians for Dignity" after Palestinian police broke up protests on Saturday and Sunday, passed without incident.
"With this march we emphasize that the people are the source of authority, and that we reject the use of violence against the Palestinian people by any and all hands," said the group.
On Sunday evening, Palestinian police and plainclothes security officials beat a crowd of about 200 demonstrators in Manara Square, injuring at least three and arresting several others.
It came a day after a demonstration called by activists to protest against a planned meeting between Abbas and Israeli Vice Prime Minister Shaul Mofaz, who they accused of crimes against the Palestinians.
During that demonstration, Palestinian security forces prevented protesters from marching to Abbas's Ramallah headquarters, and clashes broke out.
At least three activists were hospitalized, and security forces also attacked journalists covering the rally. At least seven people were arrested.
Following Sunday's violence, Abbas's office said it would establish a commission to investigate the incidents.
In a statement carried by the official WAFA news agency, Abbas's office said the commission would be headed by Munib al-Masri, an independent political figure.
"We will not permit any type of violation of freedom of expression and the right to free assembly, including the right to protest in a manner consistent with the law," Abbas said in the statement.
"We will not permit any abuse on the part of official bodies against our people," he said, adding that "we will not accept any attack on the prestige of official institutions."
In a statement after its weekly meeting, the cabinet affirmed "its commitment to the protection of freedom of opinion and expression" while noting such incidents cannot be repeated and holding accountable those who break the law.
The protests were sparked by a bid last week by activists to prevent a scheduled meeting between Abbas and Mofaz in Ramallah, which was later cancelled with neither side giving an explanation for the decision.
The demonstrators on Tuesday called on Abbas to abandon peace talks with Israel altogether, waving signs reading: "No to negotiations with the murderer Mofaz."
Protest organizers also called on Abbas and his government to issue "an unequivocal announcement to abandon negotiations" with Israel, calling it the "bare minimum" they expected from him.