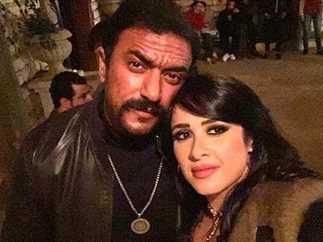 Actor Ahmed al-Awady commented on disagreements with his wife, actress Yasmine Abdel Aziz, on his official Facebook page, on Monday, denying their separation.
"My silence was because this is a dispute between me and my beloved wife, like any normal couple," he wrote.
"Yasmine is spontaneous and she expressed her anger like any of my sisters when they act the same. Because she acts spontaneously and naturally regardless of being a star," he added.
"So to prevent gossip, I am telling her I love you and what we have is greater than any disagreement or nonsense talk," he continued.
A rumor spread about the separation of Awady and Abdel Aziz during on Monday, because he did not travel with her to Switzerland, where she will complete her medical journey in Geneva.
Awady published a photo of him with Abdel Aziz, on Facebook, commenting: "Whatever happens between us… you will always be
my everything and all my life. I love you."
Awady commented on Monday on a post on Facebook by a journalist who promoted his separation from Abdel Aziz, saying: "Yasmine is still my wife… and what you are saying is not true." He asked the journalist not to promote rumors and to verify the news before publishing it.
Abdel Aziz raised controversy with a mysterious "story" on her official instagram page, commenting on a news published about her separation from Awady.
She also unfollowed Awady on instagram, which raised questions about a dispute with her husband.