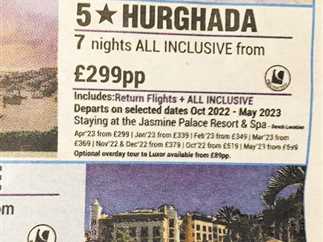 An advertisement for an Egyptian resort, hanging on the front of a UK travel agency, blew up a wave of anger among experts and workers in the Egyptian tourism field, for setting a very low rate for travel to Egypt.
Some criticized the ad as an insult to Egyptian tourism that would cause harm to the national economy.
While others said that the ad was realistic in light of the unfair competition between the differing resorts.
The Egyptian tourist destination has become known as a cheap alternative and currently attracts lower categories of the global tourism markets.
The resort invited British tourists to take trips to Egypt, at a rate incommensurable with the actual cost of the trip.
The resort, in Hurghada, published an advertisement in the UK for trips to Hurghada for seven nights, including a round trip flight ticket, at about 299 sterling pounds.
In response to this advertisement, tourism expert, Adel Shoukry, wrote on his page on Facebook, saying: "It is clear that the published advertisement says: 'in specific periods from October 2022 until May 2023'. But whatever these periods are, if the ticket (metaphorically) costs 150 sterling pounds (LE3,000), and this is definitely not possible as it cannot be less than 200 sterling pounds in light of the current global inflation and high fuel prices."
"I will assume that the ground service in Hurghada, i.e. transporting the tourist from the airport to the hotel and vice versa, will cost LE100, so the remaining LE2,900 ÷ 7 nights, is LE414 per night, which is equivalent to US$20," he added.
He added these rates violate a ministerial decision on the minimum prices of accommodation at hotels.
Tourism expert, Moataz Sedky, Vice Chairman of the Tourism Committee at the American Chamber of Commerce, said the problem of tourism to Egypt is that it is not P2C friendly, meaning that it is business to client. The customer cannot come alone and visit Egypt very comfortably, as it is based on the P2P system, meaning that Egypt encourages international tour operators, but does not care about the individual who wants to visit Egypt alone as in Europe.