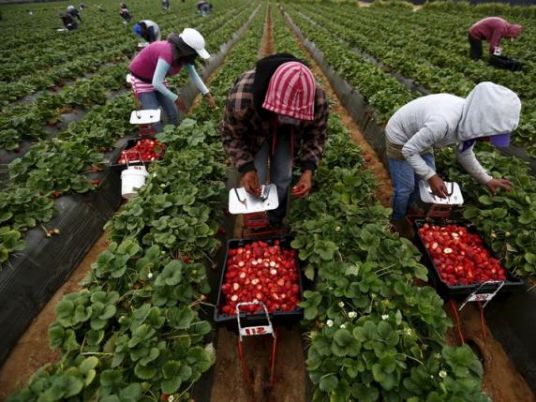 Minister of Agriculture and Land Reclamation Abdel Moneim al-Banna said on Monday that a new system to export strawberries is to be implemented with the start of the fruit's export season at the end of August, to increase integration of Egyptian products into other markets.
In statements to Al-Masry Al-Youm, Banna said that the new system aims to track export crops starting from the application of the proper practices, during the stages of agriculture, to preparation of export and packaging to ascertain the permissible rates for pesticide residues according to the internationally limits.
Banna said that he instructed the Central Administration of the Quarantine to tighten the procedures of the quarantine on vegetables and fruit exported through Egyptian ports.
He pointed out that this initiative is to ensure the exported agricultural products are in accordance with international standards and meet the requirements of the importing countries for these products.
Meanwhile, the Agricultural Export Council issued a bulletin calling on all exporters to adhere to the new measures from the Central Department.
The statement said that the quarantine unit instructed its employees in Egyptian airports and ports not to allow the export of any agricultural packages from companies that have had their shipments rejected, adding that these companies will go through a new process of examination for shipments and collect samples for analysis, so that no more shipments are refused.
In June, Saudi Arabia imposed a ban on imported Egyptian strawberries due to pesticide residues. Also last month, Iraq tightened regulations on imported vegetables and fruits from Egypt to ensure that pesticide and heavy mineral residue remained in accordance with international standards.
Edited translation from Al-Masry Al-Youm