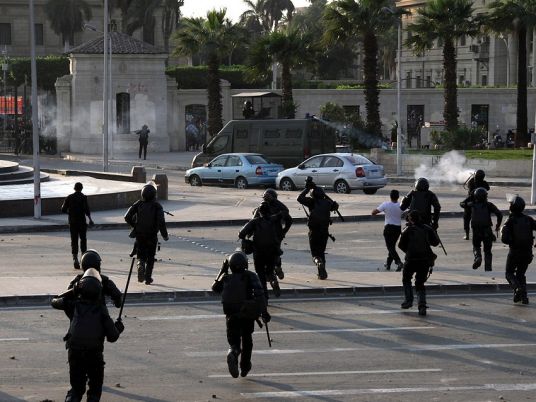 Security forces entered Ain Shams University on Thursday at the university's request for police intervention following clashes between students affiliated to the Muslim Brotherhood and opposing students from the Faculty of Commerce.
In a statement, the Interior Ministry said, "Cairo security services spotted clashes between students affiliated to the terrorist Brotherhood group and Ain Shams's Faculty of Commerce students. The faculty dean contacted authorities at the Cairo security department and demanded police intervention as administrative security personnel were unable to control the situation. The dean feared clashes would affect exams, cause injuries or lead to other issues on campus."
"Security forces are coordinating with the Ain Shams University president in dealing with the incidents inside campus," the statement added.
Major General Hani Abdel Latif, the ministry spokesperson, told the news agency MENA that information was submitted to the ministry concerning Brotherhood intentions to take advantage of students' presence in universities on Thursday to spark riots and violence and ruin "the joy of the constitutional referendum." He added that the alleged Brotherhood scheme included getting armed elements among students to commit murder on campuses.
Since the new school year, many students have rejected the new military-led government by holding protests on campuses throughout Egypt. Many have been arrested or killed in the violence that has ensued between security forces at students.
Edited translation from Al-Masry Al-Youm