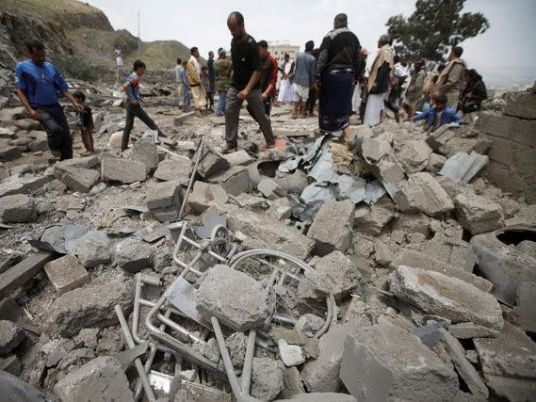 A Saudi-led coalition air strike hit a hospital operated by Medecins Sans Frontieres in northern Yemen on Monday, killing at least 11 people and wounding 19, the aid group said.
A Reuters witness at the scene of the attack in the Abs district of Hajja province said medics could not immediately evacuate the wounded because war planes continued to fly over the area and emergency workers feared more bombings.
"The location of the hospital was well known, and the hospital's GPS coordinates were repeatedly shared with all parties to the conflict, including the Saudi-led coalition," the aid group also known as Doctors Without Borders, said in a statement.
It said one of its staff members was among those killed when an aerial bomb hit the hospital compound, also killing 10 patients.
"This is the fourth attack against an MSF facility in less than 12 months," the statement said.
"Even with the recent United Nations resolution calling for an end to attacks on medical facilities and high-level declarations of commitment to international humanitarian law, nothing seems to be done to make parties involved in the conflict in Yemen to respect medical staff and patients."
A spokesman for the Saudi-led coalition did not immediately respond to a request for comment.
Another air attack hit what MSF described as a school in neighboring Saada province on Saturday, killing 10 children. The coalition said the bombing had targeted a training facility run by Yemen's dominant Houthi movement.
UN Secretary-General Ban Ki-moon condemned the air strike on Sunday and called for a investigation, which the coalition said it would conduct, according to a statement sent to Reuters.
Dozens of air strikes have hit civilians in Yemen since a coalition of Arab states led by Saudi Arabia began military operations in March 2015 to restore President Abd-Rabbu Mansour Hadi to power and roll back gains by the Iran-allied Houthis.
The Houthis and their allies in the General People's Congress (GPC) party headed by powerful ex-President Ali Abdullah Saleh set up a ruling council this month to run the parts of the country they control.
In its first decree on Monday, the council declared itself the "highest authority in the state [which] exercises all the powers vested in the president."
Hadi's internationally recognized government and the United Nations have criticized the council, set up after UN-backed peace talks in Kuwait collapsed.