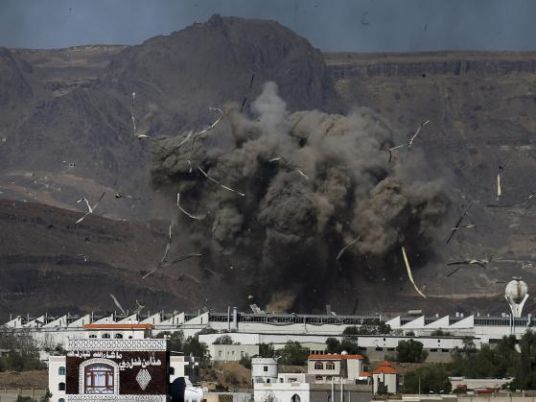 Saudi-led air strikes pounded the rebel-held Yemeni capital Sanaa on Tuesday and the new United Nations envoy to the country arrived there hours before a five-day ceasefire after over six weeks of war was set to begin.
Seeking to restore exiled President Abd-Rabbu Mansour Hadi, an alliance of Gulf Arab nations has since March 26 been bombing the Iranian-backed Houthi militia and allied army units that control much of Yemen.
Backed by Washington, the Sunni Muslim Saudi-led coalition worries that the Shia Muslim Houthi rebels are a proxy for what they see as moves by arch-rival Iran to expand its sway in their backyard, with its huge oil wealth.
Mauritanian diplomat Ismail Ould Cheikh Ahmed said he had arrived to prepare for the humanitarian truce and jumpstart stalled political talks among Yemen's civil war factions.
"We are convinced there is no solution to Yemen's problem except through a dialogue, which must be Yemeni," the envoy was quoted by Houthi-controlled state news agency Saba as saying.
Sanaa residents said there were three air strikes on a base for army contingents aligned with the Houthis in the north of the capital, sending up a column of smoke.
In the southern port of Aden, witnesses said the alliance bombed Houthi positions and local armed groups were still fighting the rebels in the city and throughout Yemen's south.
Aden residents said four residents were killed in Houthi shelling and four anti-Houthi militiamen operating a tank were killed in an Arab air strike, one of the first reported incidents of friendly fire since the campaign began.
On Monday, the Houthis and Saudi forces exchanged heavy artillery fire along the two countries' rugged desert border.
The ceasefire was set to take effect at 11 p.m. to allow the shipment of food and medicine to the blockaded country, which aid groups warn faces a humanitarian catastrophe.
Adrian Edwards, a spokesman for UN refugee agency UNHCR, said planes were poised to take off from Dubai in the United Arab Emirates bearing 300 tonnes of sleeping mats, blankets and tent material.
"The UNHCR is making final preparations for a huge airlift of humanitarian aid into Yemen's Sanaa, to take place over the next days if today's proposed ceasefire comes into effect and holds," he told a briefing in Geneva.
As of Wednesday, the UN agency OCHA said 1,527 people have died in the Arabian Peninsula country's conflict, among them 646 civilians, and 6,266 have been wounded.