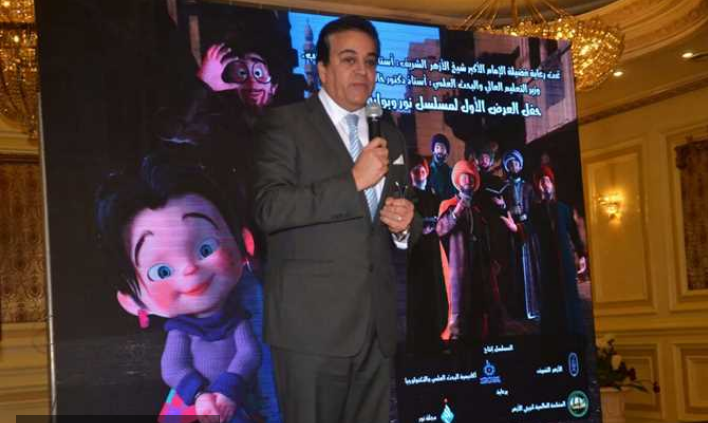 Al-Azhar University and the Academy of Scientific Research and Technology of the Higher Education Ministry has co-produced a 3D animation educational TV series dubbed "Noor the Gate of History". Higher Education Minister Khaled Abdel Ghaffar attended on Monday evening the premiere of the series, along with a host of Al-Azhar representatives and public figures.
Abdel Ghaffar stressed the importance of using animation in educating children, youth and adults on the history of their Arab and Islamic nation, including the most prominent figures who contributed to different sciences.
He also called for using the animation field in educating children and adults on the modern history of Egypt, including national development projects currently underway.
"Noor and the Gate of History" is a three-dimensional cartoon series that in a fascinating way recounts in a fascinating way the adventures and stories of many Arab and Muslim scientists who contributed to the development of human civilization, such as Ibn al-Haytham, al-Jabarti and Jabir Ibn Hayyan, said Abdel Ghaffar.
The minister added that the series is part of an integrated program implemented by the Higher Education Ministry. It was preceded by a 3D animation series, produced two years ago, called Al-Azhar, said Abdel Ghaffar. The Al-Azhar series highlighted the history of Al-Azhar as a university for over one thousand years as well as the role of Arab scientists in the fields of scientific research.
Abdel Ghaffar stressed that the aim of producing the series is to spread creative education and to take the lead in the Arab, Islamic and international animation industry, as well as creating a new generation of animation technology entrepreneurs.
Edited translation from Al-Masry Al-Youm