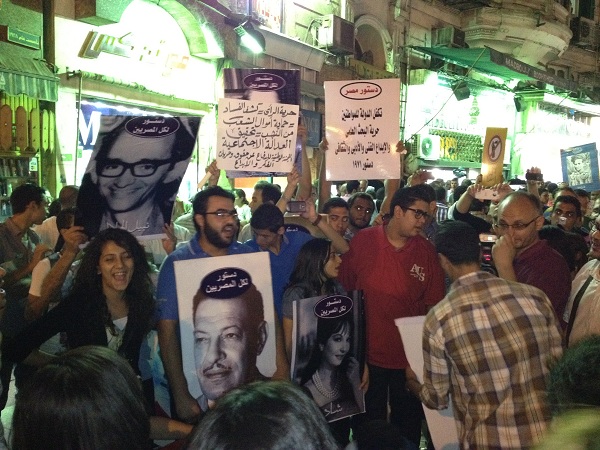 Islam Afifi, Editor-in-chief of Al-Dostour newspaper who was charged last month with defaming the president, said he has submitted his resignation after pressure from the paper's owners on its editorial policies.
In a phone interview on the privately-owned satellite channel al-Hayat, Afifi said he decided to resign after continued editorial interference from the owners.
"The decision was not a result of a specific event, but during the recent period, there [was pressure] from the management on the editorial [policy] in addressing issues in a certain way. I felt that there [was] excessive interference; that does not satisfy me as a journalist or as an editor-in-chief," he said.
He added, "My main goal as a journalist is to represent different points of view in a respectful manner, even as we exercise our role to criticize the policies of the Freedom and Justice party, or the decisions of President Mohamed Morsy."
Afifi said that having learned the rules of journalism, he felt as chief editor he should resign if he were not allowed to express all possible the viewpoints, as well as opposition to political policies.
Last month, Afifi was charged with defaming the president and harming the public interest with "inflammatory" articles and banned from travelling abroad. A Cairo court had ordered Afifi to remain in jail pending trial in September, but hours after the court's decision, President Mohamed Morsy ended pretrial detention for journalists.
Since Morsy took office, Al-Dostour has regularly published articles criticizing the Muslim Brotherhood, saying it plans to turn Egypt into an Islamic state.
Al-Dostour was one of Egypt's leading dissident newspapers in the last years of former President Hosni Mubarak's reign. At that time it ranked fifth among Egypt's dailies in terms of circulation, after Al-Ahram, Al-Masry Al-Youm, Al-Akhbar and Al-Gomhoriya. The newspaper's daily edition sells 45,000 to 55,000 copies, while its weekly sells 85,000. Many criticized its purchase by prominent businessman and Wafd Party president Al-Sayed al-Badawy, who then sacked Chief Editor Ibrahim Eissa.