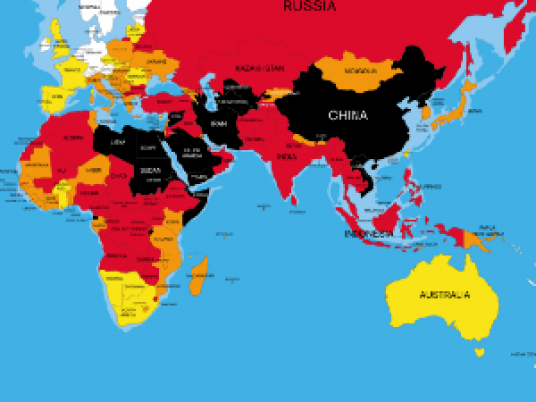 Freedom of the press is under threat around the world, said Reporters Without Borders (RSF) organization in its annual report for 2017. Egypt dropped down two ranks to stand at 161 out of 180 countries globally on the list measuring a country's freedom of the press.
"The 2017 World Press Freedom Index compiled by Reporters Without Borders reflects a world in which attacks on the media have become commonplace," the report read.
Egypt and Bahrain joined the list of countries that jail journalists, beside Turkmenistan, which ranked 178th for the freedom of press, and Syria which the organization considered the "world's most difficult and dangerous region for journalist".
The organization condemned the situation of journalists in several Middle Eastern countries such as Iran, which ranked 165th and according to the report has arbitrarily detained dozens of journalists.
The organization said Saudi Arabia ranked 168th.
The current situation of the press industry was labeled as "very dangerous" by the organization in 72 out of 180 countries, including China, Russia, India, almost all Middle East countries, Central Asia, Central America and two-thirds of Africa.
The red indicator, to reflect countries where the situation of press is labeled as "difficult", covered the majority of the organization's world map. The black indicator reflects countries where the situation of press is "very dangerous". Egypt was colored in black.
The organization expressed concern about a major shift in the status of press freedom, especially in old democracies. There are only 50 countries where the press enjoys freedom, according to the report.
Obsession with censorship and a lack of respect for the secrecy of sources are contributing to the decline in press freedom rates in many countries that were a model of good governance, including the United States and the UK, which both fell back two ranks in 2017.
Norway ranked first globally. Mauritania ranked first in the Arab world and Syria came last, ranking 177th globally. North Korea came at the bottom of the list, described as "the world's biggest prison for journalists and bloggers".
"Published annually by RSF since 2002, the World Press Freedom Index measures the level of media freedom in 180 countries, including the level of pluralism, media independence and respect for the safety and freedom of journalists. The 2017 Index takes account of violations that took place between January 1 and December 31, 2016," the report said.
RSF is an NGO that defends the freedom of press and information. It was founded in France in 1985.