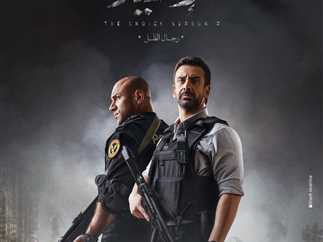 Ramadan action drama "Al-Ikhtiyar 2" (The Choice 2) topped searches on Google after the first episode aired on the ON E channel.
The series first aired on the ON channel at nine pm, with repeat airings on two am and 3:30 pm.
It is presented on ON E Drama channel at 10:15 pm and repeated at four am, 11:30 am and at 4:45 pm.
The first episode, "So We Do Not Forget", features officer Zakaria (Karim Abdel Aziz) remembers a terrorist bombing and wakes up immediately. The scene then moves to the National Security Agency's building in July 2013, where a conversation between Zakaria and Major General Riad al-Khouly about the developments in the situation in Rabaa al-Adawiya Square takes place.
Officer Youssef al-Rifai (Ahmed Mekky) accompanies Ahmed Fahmy in Arish, North Sinai. There, Rifai tells him about the death of his comrades in front of his own eyes and of being shot in the arm.

The scene then moves to Rabaa al-Adawiya Square, as the events of the Muslim Brotherhood sit-in unfold.