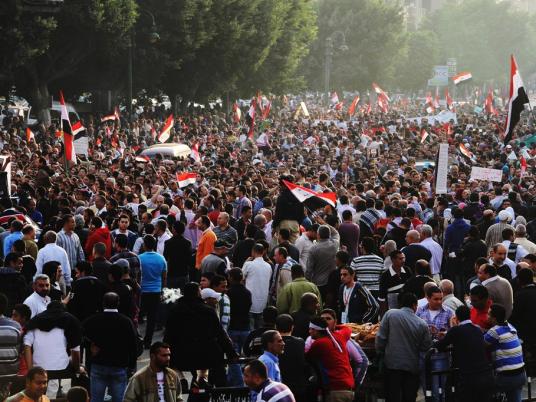 ALEXANDRIA — At least 80 people were injured Friday when clashes flared again in Alexandria between protesters campaigning against the draft constitution and Islamist proponents of the charter.
But, on the eve of the second round of referendum voting on the document, the fight was about more than differing political viewpoints. The clashes highlight a widening social schism between opposing political forces and their supporters, which has seen rival protests often spiraling into violence in recent weeks.
In the past, street clashes have typically seen protesters facing off with security forces — be they police, central security or army personnel. Until, that is, President Mohamed Morsy's controversial 22 November constitutional declaration, through which he claimed sweeping powers and called for a snap referendum on the controversial and divisive constitution.
In the weeks since, a heightened sense of polarization has conquered street politics, most violently when a sit-in by anti-Morsy protesters outside the presidential palace in Cairo was attacked by Islamist groups and violence ensued for hours between citizens.
Friday's clashes around Alexandria's Al-Qaed Ibrahim Mosque were a continuation of the previous week's fighting in the same area.
On 14 December, conflict broke out between Morsy supporters and members of the opposition after the mosque's preacher Ahmed al-Mahalawy reportedly encouraged people to vote "yes" on the constitution. Protesters besieged the mosque and trapped Mahalawy inside for 14 hours, as they claimed that he was hiding Salafi activists who had attacked them.
This week, Islamist supporters called for a rally to express solidarity with the preacher, in what they dubbed "The Friday to Defend Scholars and Mosques."
During the Friday sermon earlier that morning, Mahalawy criticized those who said the mosque had been desecrated when politics were discussed during services, adding that mosques are not only for prayer.
Unidentified people set fire to two buses and a car, but it was not clear whether the buses belonged to security forces or to Islamist protesters.
Security attempted to disperse demonstrators early in the day, firing tear gas into the crowd as the two sides hurled stones at one other on the Corniche. Volleys of tear gas canisters fell into the Mediterranean as security forces formed cordons to separate the rival groups comprised of Islamists on the one side — Muslim Brotherhood members, ultraconservative Salafis and supporters of former presidential candidate and Salafi preacher Hazem Salah Abu Ismail — and young opposition protesters on the other.
Security forces pushed both sides from the perimeter of Al-Qaed Ibrahim Mosque, moving the fight to the back streets.
Scores of men on the front line of the Islamist side throwing stones were backed by hundreds of Salafis in a protest march. The Salafis walked behind a truck with speakers blaring chants of "God is great," and warning opponents: "With our blood and soul, we will redeem Islam."
Though it was not clear how the fighting began, it will inevitably worsen the already tense political crisis over the draft charter. Both sides claimed innocence.
According to Hossam Moanes, member of the Popular Current movement headed by former presidential candidate Hamdeen Sabbahi, all opposition parties had said they would not participate in Friday's demonstration. He questioned why clashes break out whenever pro- and anti-Morsy protesters are in the same place.
Amr Gad, a 32-year-old businessman who was on the front line of the opponents' side, said, "Shortly after Friday prayers, Islamists started throwing stones, and security forces defended them by firing expired tear gas canisters. They were provoking us by carrying Saudi flags and chanting 'Here they are, the atheists.'"
On the other side, a bearded Omar Aboul Makarem, 25, had come from Qalyubiya Governorate to hear Mahalawy's Friday sermon, and joined the rally in support of "applying Allah's Sharia." He was motivated to make the trip after news of the previous Friday's attack on the sheikh.
Aboul Makarem joined the group of Abu Ismail's supporters known as Hazemoun when Abu Ismail was disqualified from the presidential race. He said the Hazemoun had stayed away from the already volatile scene in Alexandria Friday as Mahalawy had advised.
However, Ayman Elias, member of Abu Ismail's press office, confirmed that his supporters participated in the day's protests in unofficial capacity. "Hazemoun [members] participated in the Alexandria rally but individually, not in an official capacity."
Opposition activists declared a state of alert and vengeance when news circulated that Hazemoun members were en route to Alexandria, the city where a majority of 55.6 percent voted "yes" in round one of referendum.
According to Elias, the fiery Abu Ismail did not announce that he would go to Alexandria, only saying in a statement "that he hopes Egypt's scholars will attend Friday prayers to support Sheikh Mahalawy."
"We support the right to protest as long as it is peaceful," said Ali Abdul Halim, a Salafi who sustained a head injury while on the front line of stone-throwing. "We were attending Friday prayers when suddenly opponents attacked us during the prayers."
Aboul Makarem says, "We were chanting for Sharia, why are they afraid of that? They are hired thugs and anti-Sharia."
He adds that Abu Ismail was "born a leader," and that he admires the sheikh's eloquence. "He has never incited people against each other; [he] is eager to apply Sharia and so is met with an organized slander campaign by the media."
Sabri Mostafa, a 55-year-old waiter who was present during Mahalawy's sermon on 14 December said he voted in favor of the draft constitution last week.
"If it is approved by 51 percent it will be a good result until the country becomes stable, then we can change the eight articles the opposition rejects," he said.
The remaining 17 governorates — Giza, Qalyubiya, Monufiya, Beheira, Kafr al-Sheikh, Damietta, Port Said, Ismailia, Suez, Marsa Matrouh, Red Sea, New Valley, Beni Suef, Fayoum, Minya, Luxor and Qena — are voting Saturday in the second phase of the referendum.
Ten governorates voted during the first phase last weekend, after which initial results showed a turnout of about 31 percent, with a majority of about 57 percent of ballots in favor of the draft.