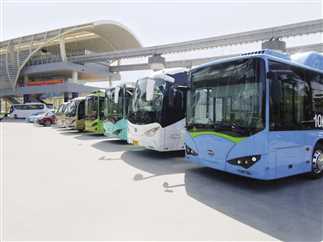 Khalid Elaiwa, Chairman of the General Authority for Passenger Transport in Alexandria, announced that the city will receive it's first electric bus from China within days. It will be admitted into service on the Alexandria Corniche Road, he added.
Elaiwa said that the Chinese bus manufacturer made the first bus and sent it on the way to Alexandria. According to Elaiwa, the new electrified bus carries 90 passengers, is air-conditioned, and has WiFi service and a wheelchair for people with special needs at the back door.
The bus is environmentally friendly and does not produce noise or pollution. It is estimated at LE4 million, and it's maximum speed is 80 km/h and an engine capacity of 300 kW, equaling 430 horsepower, he added.
It operates using a battery that takes between 3 to 4 hours to be recharged. The battery allows the bus to move for 250 km without air-conditioning and 210 km with air conditioning on.
Egypt also contracted with Ukraine for a supply of 15 modern trams.
Chairman of the Public Transport Authority revealed that a committee from the authority will visit Ukraine within a few days to inspect the first tram manufactured by Ukraine out of 15 trams, at a total cost of US$17.5 million, before shipping it to Alexandria.
The speed of the tram can reach 75 kilometers per hour, the vehicles are air-conditioned and have WiFi and GPS services. It can transfer 140 passengers a time, according to Elaiwa.
The tram units use advanced technology for traffic control and are specially designed to operate in Alexandria's narrow street curves, he said.
The General Authority for Passenger Transport signed a contract in January to supply 15 buses, working with electricity with China's BYD company. Alexandria will be the first city in Egypt and the Middle East to operate electric buses.
Edited translation from Al-Masry Al-Youm