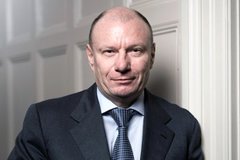 Western nations are not doing enough to punish Russian oligarchs with close ties to Russian President Vladimir Putin, according to prominent Kremlin critic Alexey Navalny.
Navalny, who is serving a prison sentence that Putin's critics say is politically motivated, wants Western governments to sanction thousands of people his organization, the Anti-Corruption Foundation, accuses of wrongdoing.
"We must get the foreign officials to support our list of 6,000 or create their own instead of babbling on endlessly, and actually do what has been loudly and fervently proclaimed since the first day of the war," Navalny said in a lengthy Twitter post on Tuesday.
According to Navalny, only 46 out of the 200 Russian oligarchs from the Forbes list have been sanctioned by the West. Others, despite their close ties to Putin, were spared.
The jailed Kremlin critic also proposed imposing a 20-year travel ban to the UK, the US and the EU for Russian officials and oligarchs who publicly support the war in Ukraine.
Specific cases: Navalny decried the fact that Alexei Miller, the head of Russia's state-run energy giant Gazprom and purportedly a friend of Putin's, is not on the European sanctions list.
Navalny also questioned why the US had not sanctioned Roman Abramovich, the former owner of Chelsea football club. Navalny claims Abramovich supplies metal to the Russian defense ministry.
Abramovich was sanctioned by the UK government in March and forced to sell the club, despite repeatedly denying that his business activities merited any punishment.