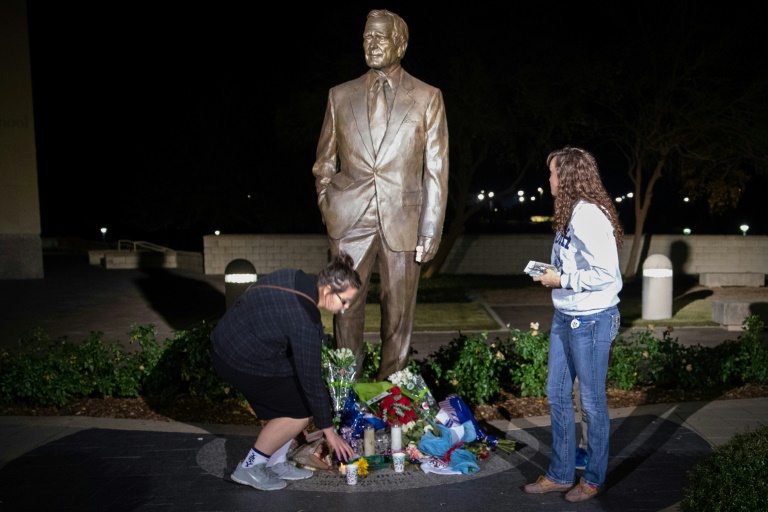 Flags flew at half-staff across the United States on Saturday as Americans prepared for a week of solemn tributes to George H.W. Bush, in his home state of Texas and in the US Capitol, a day after the former president died at age 94.
Tributes poured in from world leaders in memory of the 41st US president, who guided America through the end of the Cold War and launched the international campaign to drive Iraqi strongman Saddam Hussein's forces from Kuwait.
Many of those same leaders are expected to attend Bush's state funeral next week, alongside President Donald Trump and his wife Melania. Trump was notably absent from the funerals of the statesman's late wife Barbara, and of veteran fellow Republican John McCain.
Although the two Republican presidents were in many ways polar opposites — the soft-spoken, patrician Bush reportedly once dismissed the blustering New Yorker as a "blowhard" and even voted for his rival Hillary Clinton — Trump paid the late leader a gracious tribute, saying he had "inspired generations of his fellow Americans to public service."
"His accomplishments were great from beginning to end," Trump tweeted.
Declaring a national day of mourning for December 5 — when the federal government and New York Stock Exchange will close in Bush's honor — Trump also signaled his respect by calling off a press conference planned at the G20 summit in Buenos Aires.
The days-long national farewell to Bush will begin Monday with a commemoration in Houston, where the Bushes lived for years and where he died on Friday surrounded by friends and family.
From there, Bush's casket will travel to Washington on board Trump's presidential aircraft — in what the US leader called "a special tribute that he deserves very much."
The former president will lie in state in the US Capitol between Monday and Wednesday ahead of a state funeral at the towering National Cathedral, expected to draw dozens of dignitaries from around the world.
Bush's remains will travel back to Texas on Wednesday, where he will lie in repose at St Martin's Episcopal Church in Houston with a funeral service the next day preceding his interment at the George Bush Presidential Library in College Station. He will make his final journey aboard a funeral train.
At the presidential library on Saturday, people came to sign the memorial book in Bush's honor, or lay flowers at the feet of his statue.
Chris Griffin, a student at the Bush School of Government and Public Service at Texas A&M University who helped organize a candlelight vigil Saturday, said: "I think his legacy is really what inspires all of us."
'Grace, civility and social conscience'
Bush was a decorated World War II pilot, diplomat and onetime CIA chief who saw his son George follow in his footsteps to the Oval Office — making them only the second father-son duo in American presidential history, after John and John Quincy Adams.
From former Soviet leader Mikhail Gorbachev to current heads of state, leaders praised Bush both for his strength and his moderation, as well as the commitment to internationalism typified by his assembling of a global coalition to oust Iraqi invaders from Kuwait in 1991.
Jimmy Carter, now the oldest surviving former US president, said Bush's administration "was marked by grace, civility and social conscience."
Britain took the rare step of lowering flags in government buildings.
Gorbachev called him "a true partner" in winding down the Cold War, and French President Emmanuel Macron mourned the loss of a leader who "strongly supported the alliance with Europe."
Suffering from Parkinson's disease, Bush had been wheelchair-bound and in failing health. He is survived by his five living children and 17 grandchildren.
Former secretary of state James Baker recounted anecdotes from his longtime friend's final days to The New York Times.
He said Bush's last words were to the younger George, who was put on the speaker phone to say goodbye, saying he had been a "wonderful dad" and that he loved him.
"I love you, too," Bush replied.
'New world order'
Born on June 12, 1924 in Milton, Massachusetts into a wealthy political dynasty, Bush left school to join the US Navy during World War II. He was rescued at sea after being shot down over the Pacific.
After graduating from Yale University, he briefly worked in the Texas oil industry.
But the world of politics was calling this son of a US senator.
He served in the US House of Representatives, as Washington's envoy to China and as chief of the Central Intelligence Agency before becoming Ronald Reagan's vice president.
Eight years later, in accepting his party's nomination for president in 1988, Bush pleaded for a "kinder, and gentler nation."
Bush was a foreign policy pragmatist who led the United States through the turbulent end of the Cold War and the fall of the Soviet Union.
He declared a "new world order" in 1990 and — backed by a 32-nation coalition — drove Iraq from Kuwait with a lightning air and ground assault.
The crushing sanctions he imposed on Iraq, however, were blamed by Iraqis for thousands of deaths, drawing him the bitter nickname of "Mr Embargo."
And Panamanians said his invasion of their country in 1989 claimed hundreds of civilian lives.
But it was primarily a weak economy at home that cost him the 1992 election, won by upstart Democrat Bill Clinton.
In his later years, Bush turned to philanthropy, joining forces with Clinton to raise funds for victims of the 2004 Asian tsunami and the 2010 Haiti earthquake, and with ex-presidents Clinton, Carter, Barack Obama and son George to raise money for hurricane victims in Texas last year.