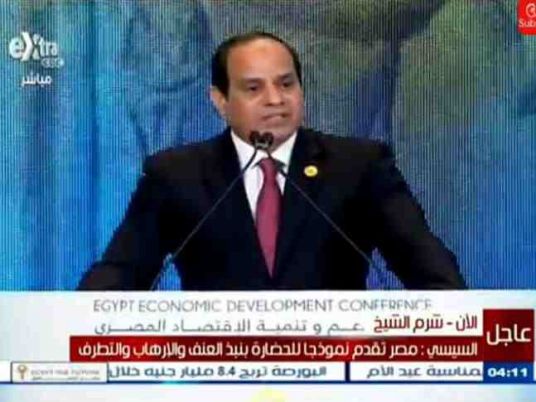 Like many Egyptians, Ahmed voted for former army chief Abdel-Fattah el-Sisi in last year's controversial presidential election.
The military leader pledged to restore stability after three years of political turmoil.
But after one year in office, Ahmed sees that Sisi's presidency has not improved the economic difficulties facing millions of Egyptians.
"When he ousted [former President] Mohamed Morsi, we expected Sisi to solve all the crises we have suffered since the [January 2011] revolution," he told Anadolu Agency.
Ahmed is in his 20s and was working in the tourism industry until 2011, when a popular revolution swept away long-time autocrat and President Hosni Mubarak.
After losing his job due to political instability, Ahmed opened up a grocery store to make ends meet.
"[Sisi] is sparing no efforts in visiting different countries to gain their respect," Ahmed said. "We only wish that he would lower the prices."
Sisi, a former army chief, was elected president last year, almost one year after he deposed Morsi, Egypt's first democratically elected president, after only one year in power.
While Morsi supporters describe his ouster as a "military coup," his opponents describe it as an "army-backed revolution."
Price hikes
Critics say that Sisi has done nothing to bolster the economy.
"I see no achievements. All promises have been empty words," an Egyptian student, speaking on condition of anonymity, told Anadolu Agency. "The prices are still skyrocketing and the situation is moving from bad to worse."
Another Egyptian, in his 30s, said the authorities should work to change people's lives.
"People are getting tired. The rich are getting richer, while the status of the poor is getting worse," he said.
Potential improvements
A website launched by activists to track Sisi's performance has recorded "poor" performance on six pledges made by the former army chief when he came to power.
The "Sisi Meter" website did, however, record improvements in the security, foreign policy and education sectors.
"Foreign policy was Sisi's biggest achievement," Mokhtar Ghobashi, deputy head of the Arab Center for Political and Strategic Studies, told Anadolu Agency.
He cited Sisi's strong relations with the Gulf countries and Russia as well as the recent rapprochement with Sudan and Ethiopia over a controversial Nile dam being built by Addis Ababa as examples of Sisi's successful foreign policy.
"Even his recent visit to Germany was smart. It came ahead of his first anniversary in power, which aimed to show [recognition] by Western countries of his legitimacy, regardless of criticism of [Egypt's] rights record," he said.
Ghobashi, however, said that Sisi's successful foreign policy "did not reflect the situation inside Egypt."
"The Egyptian citizen has yet to see the impact of this on his living conditions," he said.
He also cited "failures" in terms of easing political polarization and the exclusion of the Muslim Brotherhood, the group from which Morsi hailed.
"This is in addition to daily problems including high unemployment rates, traffic, slums and salaries," he added.
Ghobasi also cited the postponement of the parliamentary election as a "clear failure" by Sisi.
The elections were meant to be the last phase of an army-drafted roadmap unveiled in mid-2013 following Morsi's ouster by the military.
Originally scheduled for March, parliamentary polls were canceled following a ruling by Egypt's Constitutional Court, which said that Egypt's electoral law was unconstitutional.