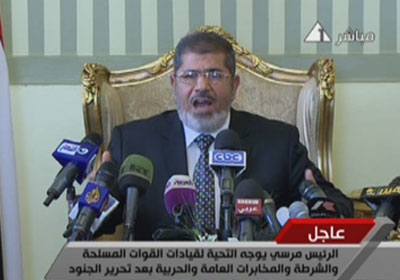 Turkish news agency Anadolu has said that according to a source close to deposed President Mohamed Morsy's family, Morsy recently called a member of his family and said that he is hanging on until the last breath and that he is following all that is taking place in the country.
The source, which declined to be identified, also said that Morsy called from a private number, stayed long on the phone and seemed to be in good morale.
The source added that the first call was eight days ago and short, and the second was five days ago.
The source said that according to Morsy, prosecutors came blindfolded to him, so as not to know where he was kept. Morsy then told them that he was the legitimate president of the country.
According to Anadolu, Morsy did not divulge his whereabouts as he did not seem aware of where he was being held. Also, he did not say if the authorities were aware of his phone call.
Mostafa Azab, spokesperson for Morsy's legal team, told Anadolu that the first call lasted 30 seconds in which Morsy assured his family that he was alright. "The authorities could well have been aware of the call," he said. "After all, they have him in their custody."
Azab, however, said he had not heard of the second phone call. "The family doesn't want to talk about it," he said.
Edited translation from Al-Masry Al-Youm