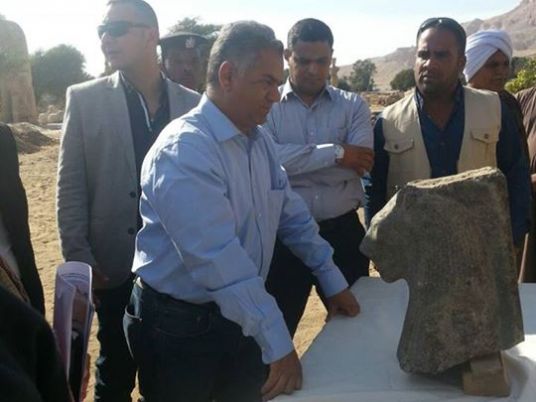 Antiquities Minister Mamdouh al-Damati announced Thursday the discovery of an archeological statue for King Amenhotep III of the Eighteenth Dynasty, in a house in Nakhlo village, Edfo, Aswan.
Damati said in a press statement on Thursday that Aswan Antiquities Department received a tip from the public prosecutor saying a statue was found during a raid on a house where drug and arms dealers resided.
Damati said a comittee of experts was formed to inspect the statue, and confirmed it was an artifact.

The minister instructed for the statue to be transfered to the ministry's stores in Edfo temporarily. The statue will be displayed in a museum after conducting necessary maintainance work, according to Damati.
King Amenhotep III is one of the most important kings of the modern state in ancient Egypt.
General Manager of Aswan antiquities Nasr Salama said that the statue is made of black granite and is in good condition.
The statue is 150 cm high and represents King Amenhotep III wearing a short kilt and a mongoose headdress. The king steps his left foot forward as is customary in Statues of kings in ancient Egypt. The statue also contains a number of important patterns in the king's belt and on the base, representing the king's names and titles, according to Salama.
Edited translation from Al-Masry Al-Youm