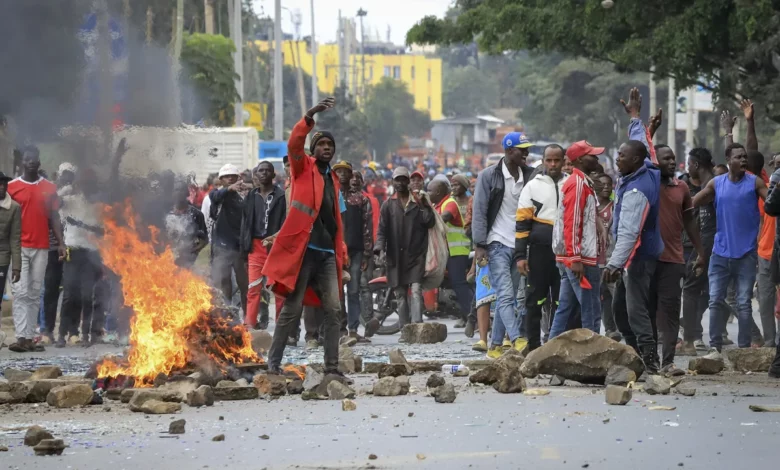 CNN
 —  A wave of deadly protests has hit Kenya as anger over tax hikes and the cost of living spilled into the streets.
At least three people were reportedly killed in the latest round of demonstrations this week, with hundreds arrested, businesses attacked and schools closed.
During protests last week the UN said up to 23 people were killed in clashes between police and protesters, although the government has disputed this figure.
Despite the violence, the government has been standing firm, with President WIlliam Ruto saying protests will not be allowed as he "cannot accept anarchy."
Here's what's behind the upheaval in Kenya.
Why are Kenyans out on the streets?
Kenyans are angry about unpopular tax hikes that the government has signed into law.
Despite a court order to temporarily halt the implementation of some portions of the bill, the government went ahead and increased tax on petroleum products which has led to a rise in cost of transport and staples.
Veteran political analyst Herman Manyora told CNN many Kenyans feel let down by President Ruto, who campaigned to prioritize the poor and improve their livelihoods.
However, 10 months after being sworn into office, the cost of living has continued to rise, and the raft of new tax hikes have only made living conditions worse.
"He (Ruto) campaigned on a platform of moving into mainstream the poor who have been forgotten over the years. He called them the 'Hustlers.' So, there were certainly a lot of expectations from that quarter, that for once we have a leader who is going to look at our problems, but he's been unable to attend to even the most basic," Manyora said.
"Some of the measures he has introduced, like lifting the subsidies on maize flour, the staple of this country, and a number of measures he has taken fly in the face of his promises and actually hurt the same people he had promised to remove from poverty. The people feel betrayed," Manyora added.
Nagudi, 34, says she is one of many Kenyans who "feel betrayed" by President Ruto. Nagudi supports the demonstrations but is scared to join them, she says.
"It's risky and the protests haven't been peaceful … We feel betrayed, and that's why there's a lot of protests and looting," says Nagudi, whose shop was looted during demonstrations in the past week.
"They raided one of my shops. They broke the fridge and drank all the sodas in it … they were just throwing and destroying everything," she added.
Why are taxes being introduced now?
President Ruto says they will help create jobs and increase domestic revenue.
Ruto inherited a battered economy grappling with soaring inflation, a high debt burden, unemployment and post-COVID stagnation.
Shortly after his inauguration last September, Ruto announced a halt in food subsidies introduced by his predecessor, saying he was shifting focus to food production.
The Kenyan leader also terminated subsidies for fuel and electricity, describing them as unsustainable. He defended his actions, saying his administration had saved large sums of money that would have been spent on the expensive subsidies.
But many Kenyans are unhappy about these policies that continue to worsen the country's cost of living crisis.
"Some of the ideas may be good … but the timing is wrong," said Manyora.
"In an economy that is not doing well, certainly it is not the right time. Salaried people are already paying from low salaries. There's a very high cost of living, and they already have many levies and taxes on their pay slips.
"The economy has not even recovered from COVID. People are still trying to find economic bearing. Therefore, they shouldn't introduce the sort of measures they have introduced, including levies on diesel and petrol, doubling the VAT. When you touch diesel and petrol, you touch many other things," he added.
Who is leading the protests?
The opposition leader Raila Odinga and his Azimio la Umoja (One Kenya) coalition have led calls for protests over hikes.
Odinga lost the election in August last year but rejected the results saying they were manipulated. He has since led protests against the government.
"The people are coming out to protest against the punitive tax proposals contained in a recently enacted tax law, but more importantly, it is also a continuation of the protest by the people against the injustice surrounding the 2022 presidential election," opposition MP Opiyo Wandayi told CNN.
But while protests were initially fueled by discontent over the election they have since morphed to include everyday Kenyans frustrated by the high cost of living.
However, analysts say Kenyans across party lines are dissatisfied with Ruto's economic policies.
"The high cost of living has staged a unified purpose for both Kenya Kwanza (Ruto's political alliance) and (Odinga's) Azimio, political journalist Moses Odhiambo told CNN.
"It is now more than just about Raila but more to do with the spikes in prices of basic commodities, and fuel."
The protests look set to continue as previous talks between Odinga and Ruto failed to yield results.
What happens next?
Neither side looks like it is prepared to back down.
The opposition has pledged to carry out demonstrations Thursday and Friday, as planned, while the government maintained its hardline position.
Speaking at a rally of supporters in western Kenya Wednesday, Ruto said "we must protect our country, we must protect our democracy by making sure our politics is devoid of violence, or chaos, or destruction of private business, or destruction of public property.
"We must protect this country and the police must be firm on hooligans on criminals on people who want to destroy other people's business."