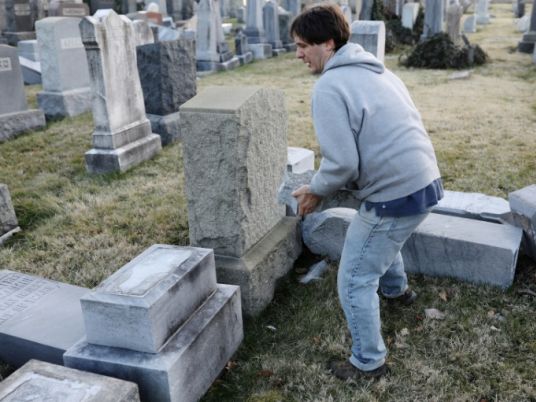 Vandals have broken and overturned more than 500 gravestones at another Jewish cemetery, this time in Philadelphia, the latest in a spate of bomb threats and attacks against Jewish sites across the United States.
Hundreds of headstones, some of them more than 100 years old, were cut in half, local media reported Sunday.
A local rabbi, who was unnamed, told ABC television affiliate WPVI that the affected graves at the historic Mount Carmel Jewish cemetery in Philadelphia's northeastern Wissinoming neighborhood also included those of one-time members of the Quaker and Muslim communities.
"We're not interested in any narrative about victimization and as heartbreaking as this is, we are strong together," the rabbi said.
"I just met two congregants of mine who were here, one of whom has relatives. His way of responding was to go row by row and count, and he's counted over 500 tombstones."
New Jersey resident Aaron Mallin discovered the vandalism on Sunday when he came to visit his father's grave at the cemetery.
"It's just very disheartening that such a thing would take place," he told WPVI.
Police say they are investigating the vandalism.
The Anti-Defamation League has offered a $10,000 reward for information leading to the arrest and conviction of those responsible.
Latest anti-Semitic attacks
The attack comes a week after more than 100 headstones were damaged at a Jewish cemetery in St Louis, Missouri. The incident prompted a Muslim-led crowdfunding campaign to raise more than $100,000 to repair the cemetery, and a visit by Vice President Mike Pence.
An American flag still stands next to one of over 170 toppled Jewish headstones after a weekend vandalism attack on Chesed Shel Emeth Cemetery in University City, a suburb of St. Louis, Missouri (Tom Gannam / Reuters).
Among more recent attacks, vandals spray-painted swastikas on several cars, highway overpasses, buildings and an elementary school playground over the weekend in Buffalo, New York, The Buffalo News reported.
After remaining silent on the subject for several days, President Donald Trump on Tuesday decried the anti-Semitic threats against Jewish community centers across America as "horrible" and "painful."
However, concern is rising about his embrace by white supremacist groups and an "alt-right" movement given a platform on Breitbart, the online news outlet once headed by Trump's chief White House strategist Steve Bannon.
The White House raised eyebrows on International Holocaust Remembrance Day late last month by issuing a statement that made no mention of the six million Jews killed in the Nazi genocide.
Other groups have also been targeted. On Wednesday, a drunk white man fatally shot an Indian engineer and wounded another in Kansas City, screaming racial slurs and telling them "Get out of my country!"