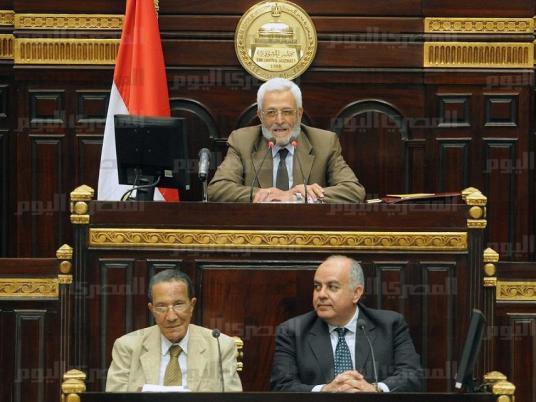 Fifty advisors from the administrative prosecution's office have filed suit against the Constituent Assembly, demanding that its work be suspended and that the legislation regarding its formation be annulled.
According to a state TV website, the lawsuit was filed on Monday before the State Council's Supreme Administrative Court. It cites President Mohamed Morsy, Prime Minister Hesham Qandil and assembly chairman Hossam Gheriany.
Gheriany retired from his position as president of the Court of Cassation in July. The lawsuit claims that he is therefore not legally eligible to chair the Constituent Assembly, although he was nominated to that position in March.
The office of the administrative prosecution had announced on Sunday that it would go on a three-day strike starting on Tuesday, in order to pressure the Constituent Assembly to make its powers clear in the draft constitution.
The state-owned news source MENA reported on Friday that those who had declared the protest feared that the administrative prosecution would be separated from the judiciary and would be moved to the executive branch under the new constitution.
The Constituent Assembly was formed by the Islamist-majority People's Assembly, which was dissolved in June. The assembly's detractors claim that the constitution-writing body is dominated by the Muslim Brotherhood and conservative Salafis.
Another lawsuit is currently before the administrative courts demanding that the assembly be disbanded, on the grounds that it is not representative of all members of Egyptian society.
The US-based Human Rights Watch has called upon the assembly to amend the proposed draft constitution, which it says would undermine key human rights.
"The draft provides for some basic political and economic rights but falls far short of international law on women's and children's rights, freedom of religion and expression, and, surprisingly, torture and trafficking," HRW said in a letter sent to the Constituent Assembly.
Edited translation from Al-Masry Al-Youm